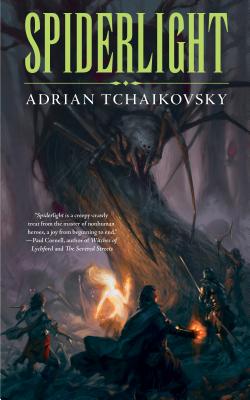 Spiderlight
Paperback

* Individual store prices may vary.
Description
Spiderlight is an exhilarating fantasy quest from Adrian Tchaikovsky, the author of Guns at Dawn and the Shadows of the Apt series.

The path to victory will only be seen through a spider's eyes...

The Church of Armes of the Light has battled the forces of Darkness for as long as anyone can remember. The great prophecy has foretold that a band of misfits, led by a high priestess will defeat the Dark Lord Darvezian, armed with their wits, the blessing of the Light and an artifact stolen from the merciless Spider Queen.

Their journey will be long, hard and fraught with danger. Allies will become enemies; enemies will become allies. And the Dark Lord will be waiting, always waiting…
Praise For Spiderlight…
"Spiderlight is a creepy-crawly treat from the master of non-human heroes, a joy from beginning to end." — Paul Cornell, author of Witches of Lychford and The Severed Streets

"[Spiderlight] is a master class in subverting our expectations to surprise, engage, and deliver a fantastic story that works even when it isn't pulling the rug out from under us." — Barnes & Noble Sci-Fi and Fantasy Blog

"Working in a small space, Tchaikovsky gives us sympathetic characters, real moral dilemmas, and emotional depth, all shot through with a sly humor that kept me grinning throughout. If, like me, you're a D&D fan who always wondered about the ethics of Detect Evil or what the orcs eat in Mordor, you will love this one." — Django Wexler, author of the Shadow Campaigns series

"Adrian Tchaikovsky's Spiderlight is [a] story that has loyalty as a central concern, albeit loyalty to an idea. It's an interrogation of the standard opposition between Light and Dark, good and evil, and what it means to deny personhood to – to strive to exterminate – certain kinds of people based on who and what they are. It's a novel about the lies we tell ourselves about what it means to be good, a story about monsters, a story about learning to be better. (It also has a great sense of humour. And spiders.)" — Locus

"Spiderlight is a great fantasy read from one of the UK's growing creators of world-class genre storytelling. Worth your time." — Starburst Magazine

"Subversive and classic, Spiderlight is a timeless adventure cranked up for the modern era of readers. A warship-rocker of an adventure, Adrian Tchaikovsky has struck another literary goldmine that's perfect for readers to dive into. Gripping and highly recommended." — Jeremy Szal, Starship Sofa

"Spiderlight is a rip-roaring, old-fashioned heroic fantasy romp that also messes playfully with some of the genre's more outdated conventions... a breathless rush that never outstays its welcome." — Dirge Mag

"Spiderlight will take you on a ride directly through straight fantasy and into the realms of the really fantastic… a brilliantly original novel." — Geek Syndicate

"A must-read for all fans of fantasy. Very highly recommended." — Civilian Reader

"In a world of large epic fantasy series with mushy pacing and a lack of focus, Spiderlight is as sharp as a spider's fang, as tight as its webbing, and as multifaceted as its gaze." — Skiffy & Fanty

"A very fun, creepy quest tale with some quirky and engaging adventurers." — Bull Spec

"Tchaikovsky pokes gentle fun at some classic tropes and deftly uses others in a way that shows his deep love for and broad knowledge of the genre." —SF Bluestocking
Tordotcom, 9780765388360, 304pp.
Publication Date: August 2, 2016
About the Author
Adrian Tchaikovsky is the author of the acclaimed Shadows of the Apt fantasy series and the epic science fiction blockbuster Children of Time. He has won the Arthur C. Clarke Award, a British Fantasy Society Award, and been nominated for the David Gemmell Legend Award. In civilian life he is a lawyer, gamer and amateur entomologist.