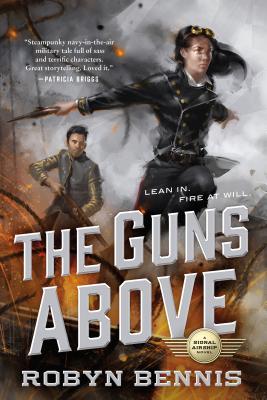 The Guns Above
A Signal Airship Novel
Hardcover

* Individual store prices may vary.
Other Editions of This Title:
Digital Audiobook (8/28/2017)
Paperback (4/17/2018)
Description
Robyn Bennis's THE GUNS ABOVE is an adventurous military fantasy debut about a nation's first female airship captain.

They say it's not the fall that kills you.

For Josette Dupre, the Corps' first female airship captain, it might just be a bullet in the back.

On top of patrolling the front lines, she must also contend with a crew who doubts her expertise, a new airship that is an untested deathtrap, and the foppish aristocrat Lord Bernat, a gambler and shameless flirt with the military know-how of a thimble. Bernat's own secret assignment is to catalog her every moment of weakness and indecision.

So when the enemy makes an unprecedented move that could turn the tide of the war, can Josette deal with Bernat, rally her crew, and survive long enough to prove herself?

"Full of sass and terrific characters. Great storytelling. Loved it." —Patricia Briggs
Praise For The Guns Above: A Signal Airship Novel…
"Steampunky navy-in-the-air military tale full of sass and terrific characters. Great storytelling. Loved it." —Patricia Briggs

"Marvelous, witty, gory AF, action-packed steampunk with exquisite attention to detail. Bennis's writing is incredible, her vocabulary impressive, and she honest to God made me believe you could build an airship from spare parts."—New York Times and USA Today Bestselling author Ann Aguirre

"The Guns Above is a sharp, witty Ruritanian adventure full of flintlock rifles, plumed shakos, brass buttons... and airships! Taking place in an alternate mid-nineteenth-century Europe where dirigibles ply the smoky air over battlefields and women have been grudgingly admitted to the air corps,The Guns Above takes a clear-eyed, even cynical view of the 'glories' of war, complete with blood, shit, shattered limbs, and petty squabbles among the nobility. The aerial combat is gut-clenchingly realistic, the two viewpoint characters are well-drawn and as different as can be, and the action never stops. Hard women learn compassion, soft men learn bravery, and the fate of a nation depends on one rickety airship and its stalwart crew. A winner!" —David D. Levine, author of Arabella of Mars

"An engaging gunpowder adventure with a helping of witty Noel Coward dialogue and a touch of Joseph Heller." —Tina Connolly, Nebula Award-nominated author of Ironskin

"Wonderfully adventurous and laudably detailed. Bennis paints airship battles so clearly you'd swear they were from memory." —Becky Chambers, author of The Long Way to a Small, Angry Planet

"Most airships seem to be powered by handwaving, but Bennis builds hers out of solid, believable detail. You couldn't pay me enough to go up in one of those flying death-traps, but I never question for an instant why Josette does, and I'm cheering for her every step of the way."—Marie Brennan, author of A Natural History of Dragons

"Buckle in. The crew of the Mistral will take readers on adventures they won't soon forget." —Pip Ballantine, author of The Ministry of Peculiar Occurrences series

"Hold on to your goggles, Bennis' The Guns Above is a nonstop ride." —Suzanne Lazear, author of The Aether Chronicles Series

"A fast-paced military fantasy, full of colourful characters and quirky humour that had me laughing throughout. Every fan of airships should read this." —Marc Turner, author of Dragon Hunters

"Bennis's prose is wry and explosive!" —Lawrence Schoen, author of Barsk

"Entertaining from start to finish, laced with brash banter and characters full of grit, muscle, and heart."—Jacqueline Koyanagi, author of Ascension

"Bennis writes a pleasing mix of banter and gritty battle scenes, combining both the adrenaline rush of combat and its horrifying results, and never indulging in too-sudden social victories that might cheapen the long struggle against embedded prejudice." —Publishers Weekly

"An exciting new world that will attract steampunk fans of all ages and leave them hoping for more." —Booklist

"An inventive military fantasy that will grab readers at the first page. Delightful, memorable characters make up Bennis' debut, along with her concise, amusing storytelling. Without a doubt, Bennis' latest is a highly entertaining read."—RT Book Reviews, four stars

"A fun blend of flintlock rifles, airships, military exercises, and wry commentary on both gender politics and 'military intelligence.' There's enough whip-smart dialogue to make any reader laugh outloud, and readers who are mechanically inclined will love the detailed descriptions of gears, flight tests, and ballast." —Fantasy Literature

"Delightfully dry whistle-past-the-graveyard humour, a soupçon of sarcasm, and an approach to military action that reminds me of nothing so much as Forrester's Hornblower or Cornwell's Sharpe novels—but with airships and female officers....The Guns Above is an immensely entertaining, fast-paced adventure." —Liz Bourke, Tor.com

"Airships, kick-ass women, and military fiction with a hint of fantasy… I mean, really, what more could you want?" —Nerdophile

"Although The Guns Above may be author Robyn Bennis' first published novel, it certainly reads as though she's found her voice— and a great story to boot." —Culturess
Tor Books, 9780765388766, 352pp.
Publication Date: May 2, 2017
About the Author
ROBYN BENNIS works in biotech but dreams of airships. She lives in Mountain View, CA, within sight of the historic Hangar One at Moffett Airfield. She is the author of the Signal Airship series, The Guns Above and By Fire Above.
or
Not Currently Available for Direct Purchase