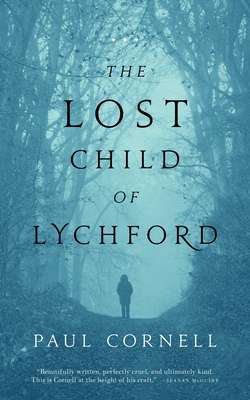 The Lost Child of Lychford (Witches of Lychford #2) (Paperback)
Tor.com, 9780765389770, 144pp.
Publication Date: November 1, 2016
Other Editions of This Title:
Digital Audiobook (5/21/2018)
* Individual store prices may vary.
Description
A finalist for the 2017 Locus Award for Best Novella!

It's December in the English village of Lychford – the first Christmas since an evil conglomerate tried to force open the borders between our world and… another.
Which means it's Lizzie's first Christmas as Reverend of St. Martin's. Which means more stress, more expectation, more scrutiny by the congregation. Which means… well, business as usual, really.
Until the apparition of a small boy finds its way to Lizzie in the church. Is he a ghost? A vision? Something else? Whatever the truth, our trio of witches (they don't approve of "coven") are about to face their toughest battle, yet!
The Lost Child of Lychford is the sequel to Paul Cornell's Witches of Lychford.
About the Author
Paul Cornell is a writer of science fiction and fantasy in prose, comics and television, one of only two people to be Hugo Award nominated for all three media. A New York Times #1 Bestselling author, he's written Doctor Who for the BBC, Wolverine for Marvel, and Batman & Robin for DC. He is the author of the Witches of Lychford series for Tor.com Publishing. He's won the BSFA Award for his short fiction, an Eagle Award for his comics, and shares in Writer's Guild Award for his TV work.
Praise For The Lost Child of Lychford (Witches of Lychford #2)…
"Cornell weaves together a fast-paced story and engrossing character studies; he paints a setting of a gloomy English countryside, disarming his readers with magic and danger that lurks unseen. Beneath the suspense lies wry humor that buoys the tale along." —Publishers Weekly
"Cornell introduces some genuine existential chills into this ingratiating setting." —The Chicago Tribune
Praise for WITCHES OF LYCHFORD
"At once epic and terribly intimate. This is the story of a village, not a city, and all the more powerful for that; not all big fantasy needs an urban setting. Beautifully written, perfectly cruel, and ultimately kind. This is Cornell at the height of his craft." - Seanan McGuire, author of the Incryptid and October Daye series
"Paul Cornell has written a marvelous story, rich in charm, about local politics and witchcraft writ small and personal, but large in consequence." - Bill Willingham, author of Fables and Down the Mysterly River
"Refreshing and suspenseful, this novella is an inventive look at the idea of magic lurking just beyond one's reach." —Publishers Weekly
"Masterfully creepy and sinister, all the more so for taking place in the beautifully drawn English countryside." - Jenny Colgan, author of Doctor Who: Into the Nowhere