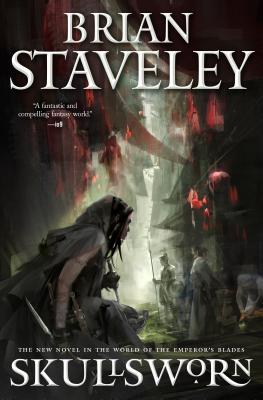 Skullsworn: A New Novel in the World of "The Emperor's Blades" (Hardcover)
A New Novel in the World of "The Emperor's Blades"
Tor Books, 9780765389879, 320pp.
Publication Date: April 25, 2017
Description
Brian Staveley's new standalone returns to the critically acclaimed Chronicle of the Unhewn Throne universe, following a priestess attempting to join the ranks of the God of Death.
Pyrre Lakatur doesn t like the word skullsworn. It fails to capture the faith and grace, the peace and beauty of her devotion to the God of Death. She is not, to her mind, an assassin, not a murderer--she is a priestess. At least, she will be a priestess if she manages to pass her final trial.
The problem isn t the killing. Pyrre has been killing and training to kill, studying with some of the most deadly men and women in the world, since she was eight. The problem, strangely, is love. To pass her Trial, Pyrre has ten days to kill the ten people enumerated in an ancient song, including "the one you love / who will not come again."
Pyrre is not sure she's ever been in love. If she were a member of a different religious order, a less devoted, disciplined order, she might cheat. The Priests of Ananshael, however, don t look kindly on cheaters. If Pyrre fails to find someone to love, or fails to kill that someone, they will give her to the god.
Pyrre's not afraid to die, but she hates to quit, hates to fail, and so, with a month before her trial begins, she returns to the city of her birth, the place where she long ago offered an abusive father to the god and abandoned a battered brother in the hope of finding love...and ending it on the edge of her sword.
"A complex and richly detailed world filled with elite soldier-assassins, mystic warrior monks, serpentine politics, and ancient secrets." Library Journal, starred review, on The Emperor's Blades
About the Author
BRIAN STAVELEY has taught literature, religion, history, and philosophy, all subjects that influence his writing, and holds an MA in Creative Writing from Boston University. He works as an editor for Antilever Press, and has published poetry and essays, both in print and on-line. He is the author of the Chronicles of the Unhewn Throne (The Emperor's Blades, Providence of Fire, The Last Mortal Bond). He lives in Vermont with his wife and young son, and divides his time between running trails, splitting wood, writing, and baby-wrangling.
Advertisement