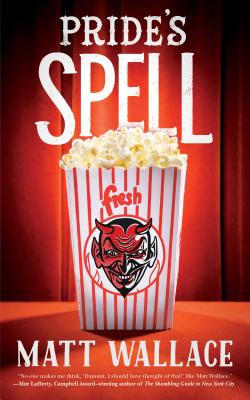 Pride's Spell (Paperback)
A Sin du Jour Affair
Tor.com, 9780765390004, 240pp.
Publication Date: June 21, 2016
Other Editions of This Title:
Digital Audiobook (6/20/2016)
* Individual store prices may vary.
Description
The team at Sin du Jour—New York's exclusive caterers-to-the-damned—find themselves up against their toughest challenge yet when they're lured out west to prepare a feast in the most forbidding place in America: Hollywood, where false gods rule supreme.
Meanwhile, back at home, Ritter is attacked at home by the strangest hit-squad the world has ever seen, and the team must pull out all the stops if they're to prevent themselves from being offered up as the main course in a feast they normally provide
Starring: The Prince of Lies, Lena Tarr, Darren Vargas. With Byron Luck. Introducing: the Easter Bunny.
Pride's Spell is the third installment in Matt Wallace's Sin du Jour series.
Sin du Jour
Book 1: Envy of Angels
Book 2: Lustlocked
Book 3: Pride's Spell
Book 4: Idle Ingredients
Book 5: Greedy Pigs
Book 6: Gluttony Bay
Book 7: Taste of Wrath
About the Author
MATT WALLACE is the author of The Next Fix, The Failed Cities, and the novella series, Slingers. He's also penned over one hundred short stories, some of which have won awards and been nominated for others, in addition to writing for film and television. In his youth he traveled the world as a professional wrestler and unarmed combat and self-defense instructor before retiring to write full-time. He now resides in Los Angeles with the love of his life and inspiration for Sin du Jour's resident pastry chef.
Praise For Pride's Spell: A Sin du Jour Affair…
"Matt Wallace is now three books in to his Sin du Jour series and they really do just keep getting better and better... [and they] are starting to figure out what sort of meal they want to be, which is filling and fun." —Locus
"Pride's Spell ended up being everything I wanted and expected out of a Sin du Jour novella. It's ridiculous but fun. Humor, action, insanity and violence are still key ingredients in this madcap urban fantasy series, but I'm also glad that we're starting to see more development in the characters and their relationships. There's a sense of everything coming together here, even tying in some elements introduced from the first book in the series, making me hunger for the next course. I have a feeling it's all going to culminate into something great." - The BiblioSanctum
"Each volume of this series is better than the one before." — SF Bluestocking