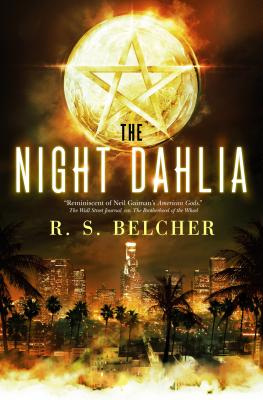 The Night Dahlia (Nightwise #2) (Paperback)
Tor Books, 9780765390127, 368pp.
Publication Date: April 3, 2018
Other Editions of This Title:
MP3 CD (1/8/2019)
* Individual store prices may vary.
Description
Laytham Ballard once protected humanity as part of the Nightwise, a secret order of modern-day mages dedicating to holding hellish supernatural forces at bay, but that was before a string of sadistic ritual murders shook everything he believed in—and sent him down a much darker path. One that has already cost him most of his soul, as well as everything he once held dear.
Now a powerful faerie mob boss has hired Ballard to find his lost-lost daughter, who went missing several years ago. The long-cold trail leads him across the globe, from the luxurious playgrounds of the rich and famous to the seedy occult underbelly of Los Angeles, where creatures of myth and legend mingle with street gangs and sex clubs, and where Ballard finds his own guilty past waiting for him around every shadowy corner. To find Caern Ankou, he will have to confront old enemies, former friends and allies, and a grisly cold case that has haunted him for years.
But is Caern still alive? And, perhaps more importantly, does she even want to be found?
About the Author
R.S. BELCHER won the Grand Prize in the Strange New Worlds SF-writing contest. He runs Cosmic Castle, a comic book shop in Roanoke, Virginia, and is the author of The Six-Gun Tarot.
Praise For The Night Dahlia (Nightwise #2)…
"Reminiscent of Neil Gaiman's American Gods" —The Wall Street Journal on The Brotherhood of the Wheel
A fun, rollicking, dark, and disturbing romp through a magical western world . . . a whirlwind of shootouts, assassins, cults, zombies, magic, attractive ladies, dubious morals, and demonic possession, sure to keep you on your toes. —San Francisco Book Review on The Six-Gun Tarot

Praise for Nightwise:
"Belcher's relentlessly vivid imagination and brilliant prose drive this sensational noir urban fantasy . . . this is a book that is wholly addictive."—RT Book Reviews
"A dark and dangerous magical world, an awesome anti-hero, stellar writing—what more do you need."—Books, Bones & Buffy
"Another fine effort from Belcher, ripped from a dark, dark place."—Kirkus Reviews
"Belcher tells a tense, tightly-paced story."—Publishers Weekly