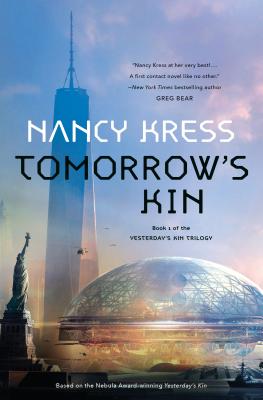 Tomorrow's Kin (Hardcover)
Book 1 of the Yesterday's Kin Trilogy
Tor Books, 9780765390295, 352pp.
Publication Date: July 11, 2017
Other Editions of This Title:
Paperback (2/13/2018)
MP3 CD (7/11/2017)
Compact Disc (7/11/2017)
Compact Disc (7/11/2017)
* Individual store prices may vary.
Description
Tomorrow's Kin is the first volume in and all new hard science fiction trilogy by Nancy Kress based on the Nebula Award-winning Yesterday's Kin.

Locus 2017 Recommended Reading List

The aliens have arrived... they've landed their Embassy ship on a platform in New York Harbor, and will only speak with the United Nations. They say that their world is so different from Earth, in terms of gravity and atmosphere, that they cannot leave their ship. The population of Earth has erupted in fear and speculation.
One day Dr. Marianne Jenner, an obscure scientist working with the human genome, receives an invitation that she cannot refuse. The Secret Service arrives at her college to escort her to New York, for she has been invited, along with the Secretary General of the UN and a few other ambassadors, to visit the alien Embassy.
The truth is about to be revealed. Earth's most elite scientists have ten months to prevent a disaster—and not everyone is willing to wait.
About the Author
Nancy Kress is the author of thirty-three books, including twenty-six novels, four collections of short stories, and three books on writing. Her work has won six Nebulas, two Hugos, a Sturgeon, and the John W. Campbell Memorial Award. Kress's work has been translated into two dozen languages, including Klingon, none of which she can read. Kress lives in Seattle with her husband, writer Jack Skillingstead, and Cosette, the world's most spoiled toy poodle.
Praise For Tomorrow's Kin: Book 1 of the Yesterday's Kin Trilogy…
Praise for Tomorrow's Kin
Washington Post Best New Science Fiction for Summer
"Tomorrow's Kin's begins in a way that readers of her earlier writing and Sir Arthur C Clarke's Childhood's End will recognise—the arrival to Earth of aliens—but then, like the best of Clarke, transcends from this to something new and contemporary."—SFF World
"A refreshingly original piece of science fiction."—Tor.com
"Kress mixes contemporary issues of isolationism and refugee status with classic SF first-contact tropes, threaded neatly with solid scientific theory and speculation."—Publishers Weekly (starred review)
"A solid, riveting and fast-paced tale."—RT Book Reviews (5 stars out of 5)
Praise for the Hugo Award-winning Yesterday's Kin
"Kress has proven that she can pack a huge amount of story into a small container, and here the author expertly explores one family's experience of alien visitation."—Library Journal
"Sparely constructed and cleverly resolved, Yesterday's Kin provides everything readers need for an immersive plunge into a frightening, fascinating and inescapable predicament."—Seattle Times

"Hard Science Fiction is a thing! And Nancy Kress blew this one completely out of the park."—Book Ink Reviews

"If you're looking for a solid piece of hard SF, this looks like the start of an exciting new series."—Sci-Fi and Fantasy Review
"Engaging"—Kirkus Reviews

"Skillfully written."—Fantasy Book Cafe
"Nancy Kress delivers one of the strongest stories of the year to date.... As with all of Kress's work, this is very nicely crafted, with well-paced prose that carries you through the story, complex human characters, a compelling and conflict-driven human story, a clever twist partway through, and an even cleverer twist at the end."—Gardner Dozois, editor of The Year's Best Science Fiction series