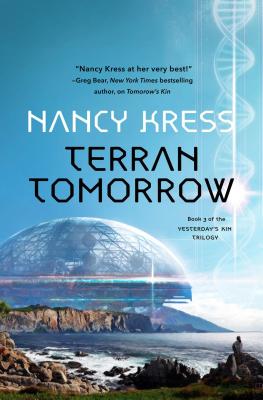 Terran Tomorrow (Hardcover)
Yesterday's Kin Trilogy, Book 3
Tor Books, 9780765390356, 336pp.
Publication Date: November 13, 2018
Other Editions of This Title:
Compact Disc (11/13/2018)
MP3 CD (11/13/2018)
Compact Disc (11/13/2018)
* Individual store prices may vary.
Description
Nancy Kress returns with Terran Tomorrow, the final book in the thrilling hard science fiction trilogy based on the Nebula Award–winning novella Yesterday's Kin.
io9—New Sci-Fi and Fantasy Books You Need to Put on Your Radar for Fall
The diplomatic mission from Earth to World ended in disaster, as the Earth scientists discovered that the Worlders were not the scientifically advanced culture they believed. Though they brought a limited quantity of the vaccine against the deadly spore cloud, there was no way to make enough to vaccinate more than a few dozen. The Earth scientists, and surviving diplomats, fled back to Earth.
But once home, after the twenty-eight-year gap caused by the space ship transit, they find an Earth changed almost beyond recognition. In the aftermath of the spore cloud plague, the human race has been reduced to only a few million isolated survivors. The knowledge brought back by Marianne Jenner and her staff may not be enough to turn the tide of ongoing biological warfare.
The Yesterday's Kin Trilogy
#1 Tomorrow's Kin
#2 If Tomorrow Comes
#3 Terran Tomorrow
About the Author
Nancy Kress is the author of more than thirty books, including novels, short story collections, and nonfiction books about writing. Her work has won six Nebulas, two Hugos, a Sturgeon, and the John W. Campbell Memorial Award. She expanded two of her Nebula Award winners into successful trilogies: the novella Yesterday's Kin into a trilogy (Tomorrow's Kin, If Tomorrow Comes, and Terran Tomorrow), and the novelette "The Flowers of Aulit Prison" into the Probability Trilogy. Kress's work has been translated into two dozen languages, including Klingon, none of which she can read. She lives in Seattle with her husband, writer Jack Skillingstead, and Cosette, the world's most spoiled toy poodle.
Praise For Terran Tomorrow: Yesterday's Kin Trilogy, Book 3…
Praise for Tomorrow's Kin
Washington Post Best New Science Fiction for Summer 2017
"A refreshingly original piece of science fiction."—Tor.com
"Kress mixes contemporary issues of isolationism and refugee status with classic SF first-contact tropes, threaded neatly with solid scientific theory and speculation."—Publishers Weekly (starred review)
"A solid, riveting and fast-paced tale."—RT Book Reviews (5 stars out of 5)
"[Kress] never seems quite satisfied with the resolutions demanded by the beginning-middle-end structure of conventional storytelling. Instead, each apparent resolution or escape or victory is actually a new situation with its own set of problems, dangers, contradictions, and unintended consequences. The worlds of her stories just won't sit still."—Locus
Praise for the Hugo Award-winning Yesterday's Kin
"Kress has proven that she can pack a huge amount of story into a small container, and here the author expertly explores one family's experience of alien visitation."—Library Journal
"Sparely constructed and cleverly resolved, Yesterday's Kin provides everything readers need for an immersive plunge into a frightening, fascinating and inescapable predicament."—Seattle Times

"Hard Science Fiction is a thing! And Nancy Kress blew this one completely out of the park."—Book Ink Reviews

"If you're looking for a solid piece of hard SF, this looks like the start of an exciting new series."—Sci-Fi and Fantasy Review
"Engaging"—Kirkus Reviews

"Skillfully written."—Fantasy Book Cafe
"Nancy Kress delivers one of the strongest stories of the year to date.... As with all of Kress's work, this is very nicely crafted, with well-paced prose that carries you through the story, complex human characters, a compelling and conflict-driven human story, a clever twist partway through, and an even cleverer twist at the end."—Gardner Dozois, editor of The Year's Best Science Fiction series