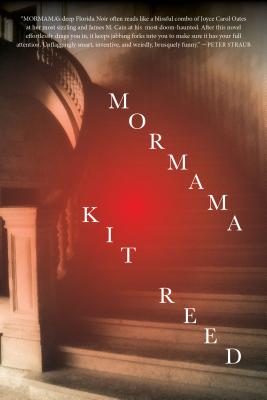 Mormama
Hardcover

* Individual store prices may vary.
Other Editions of This Title:
Paperback (4/1/2020)
Description
MORMAMA is a riveting supernatural, southern gothic tale from Kit Reed, the author of Where.

*2018 LOCUS AWARD FINALIST FOR BEST HORROR*
*Locus 2017 Recommended Reading List*
One of io9's 20 Amazing New Scifi and Fantasy Books for May
Kirkus' the Best Science Fiction, Fantasy, and Horror Reads for May
Dell Duval has been living on the street since his accident. He can't remember who he was or where he came from. All he has is a tattered note in his pocket with an address for the Ellis house, a sprawling, ancient residence in Jacksonville. He doesn't know why he's been sent here.
In the house, Lane and her son Theo have returned to the ancient family home—their last resort. The old house is ruled by an equally ancient trio of tyrannical aunts, who want to preserve everything. Nothing should ever leave the house, including Lane.
Something about the house isn't right. Things happen to the men and boys living there. There are forces at work one of which visits Theo each night—Mormama, one mama too many.
Praise For Mormama…
Praise for Mormama

"Some horror novels, though, feel timeless whenever you happen to read them, and Kit Reed's wondrous new ghost story Mormama seem to me one of those." —New York Times Book Review

"William Faulkner's Yoknapatawpha County by way of Mervyn Peake's 'Gormenghast.'"—The Wall Street Journal
"It's a smart and chilling tale on par with the best of Shirley Jackson, by an author who helped define the American Gothic."—The Village Voice
"The power of Reed's [Mormama] comes from the layering of a chorus of voices...mirrored and reinforced by a social environment that runs on a toxic mix of privilege, public refinement, and propriety that conceals private selfishness and cruelty.... Ghosts are scary, but that kind of bottomless, banal egotism shrivels and kills the soul. Or worse, preserves it." —Locus
"In true southern gothic style, this tale is as much a ghost story as it is an allegory for the crumbling ways of the Old South." —Booklist
"A coherent and entertaining narrative tapestry with an oppressive sense of supernatural threat, psychological intrigue and spiritual despair." —The Morning Star

"Unflaggingly smart, inventive, and weirdly, brusquely funny." —Peter Straub
"A harrowing supernatural Southern gothic—completely convincing, and scary in all sorts of ways." —Tim Powers, author of Hide Me Among the Graves
"Fitting on the horror scale somewhere between Shirley Jackson and John Farris, this tale of generational hauntings and family secrets, with an amnesiac filling in as Greek chorus, is one of the best predatory house tales I've come across in many years." —Chelsea Quinn Yarbro, winner of the World Fantasy Lifetime Achievement Award
"Through a chorus of living and dead voices, all of which know something but none of which know everything Mormama offers the story of a family trauma that has come to infect a place. A terrific story that keeps you
on your toes to the very end."—Brian Evenson, author, The Open Curtain
Tor Books, 9780765390448, 288pp.
Publication Date: May 30, 2017
About the Author
Kit Reed (1932-2017) is the author of the Alex Award-winning Thinner Than Thou and many other novels, including The Night Children, her first young adult work. Reed has been nominated for the World Fantasy Award and has been a James W. Tiptree Award finalist. Kit Reed lived in Middletown, CT, and was Resident Writer at Wesleyan University.