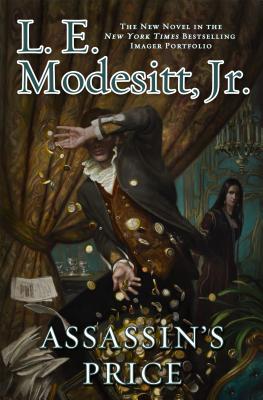 Assassin's Price (Hardcover)
Tor Books, 9780765390479, 528pp.
Publication Date: July 25, 2017
Description
Assassin's Price is the eleventh book in the bestselling, epic fantasy series the Imager Portfolio by L. E. Modesitt, Jr. and the third book in a story arc which began with Madness in Solidar and Treachery's Tools.
Six years have passed since the failed uprising of the High Holders, and the man behind the conspiracy is where the rex and Maitre Alastar can keep an eye on him.
Charyn has come of age and desperately wants to learn more so he can become an effective rex after his father--but he's kept at a distance by the rex. So Charyn sets out to educate himself--circumspectly.
When Jarolian privateers disrupt Solidar's shipping, someone attempts to kill Charyn's younger brother as an act of protest. Threatening notes following in the wake of acts of violence against the rex and his family, demanding action--build more ships or expect someone to die.
The Imager Portfolio
#1 Imager / #2 Imager's Challenge / #3 Imager's Intrigue / #4 Scholar / #5 Princeps / #6 Imager's Battalion / #7 Antiagon Fire / #8 Rex Regis / #9 Madness in Solidar / #10 Treachery's Tools / #11 Assassin's Price
Other series by this author:
The Saga of Recluce
The Corean Chronicles
The Spellsong Cycle
The Ghost Books
The Ecolitan Matter
About the Author
L. E. MODESITT, JR. is the bestselling author of over seventy books including Rex Regis and Madness in Solidar. His work ranges from science fiction to fantasy, including the Imager Portfolio and Saga of Recluce series. He currently lives in Cedar City, Utah.
Advertisement