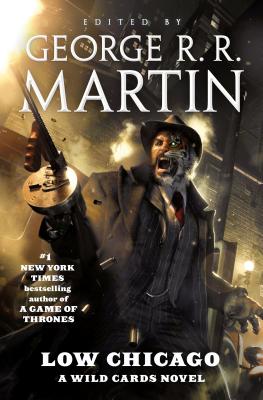 Low Chicago
A Wild Cards Novel
Hardcover

* Individual store prices may vary.
Other Editions of This Title:
Paperback (7/16/2019)
Description
Soon to be a show on Hulu!

In Low Chicago, a gang of criminals scattered throughout the past threaten the stability of the world in George R. R. Martin's latest Wild Cards adventure.
The stakes were already high enough at Giovanni Galante's poker table that night in Chicago. Poker. Dealer's choice. Seven players. A million-dollar cash buy-in.
But after a superpowered mishap, the most high-profile criminals in the city are scattered throughout the past and their schemes across time threaten the stability of the world.
Perfect for current fans and new readers alike, Low Chicago is an all-new time travel adventure that highlights the criminal underworld of 1920s Chicago, featuring a fresh cast of characters from the Wild Cards universe.
Co-edited by #1 New York Times bestselling author George R. R. Martin and Melinda M. Snodgrass (screenwriter, Star Trek), Low Chicago features the writing talents of Saladin Ahmed (author of the bestselling comic Black Bolt), Paul Cornell (screenwriter, Doctor Who), Marko Kloos (author of the bestselling Frontlines series), John Jos. Miller, Mary Anne Mohanraj (Bodies in Motion, The Stars Change), Hugo, Nebula, World Fantasy and Theodore Sturgeon Award finalist Christopher Rowe, Kevin Andrew Murphy, and Melinda M. Snodgrass.
"Martin has assembled an impressive array of writers. . . . Progressing through the decades, Wild Cards keeps its momentum."—Locus
Now in development for TV: Rights to develop Wild Cards have been acquired by Universal Cable Productions, the team behind The Magicians and Mr. Robot, with the co-editor of Wild Cards, Melinda Snodgrass, as executive producer.

The Wild Cards Universe
The Original Triad
#1 Wild Cards
#2 Aces High
#3 Jokers Wild
The Puppetman Quartet
#4: Aces Abroad
#5: Down and Dirty
#6: Ace in the Hole
#7: Dead Man's Hand
The Rox Triad
#8: One-Eyed Jacks
#9: Jokertown Shuffle
#10: Dealer's Choice
#11: Double Solitaire
#12: Turn of the Cards
The Card Sharks Triad
#13: Card Sharks
#14: Marked Cards
#15: Black Trump
#16: Deuces Down
#17: Death Draws Five
The Committee Triad
#18: Inside Straight
#19: Busted Flush
#20: Suicide Kings
The Fort Freak Triad
#21: Fort Freak
#22: Lowball
#23: High Stakes
The American Triad
#24: Mississippi Roll
#25: Low Chicago
#26: Texas Hold 'Em
Praise For Low Chicago: A Wild Cards Novel…
"Upbeat....Every chapter is solidly entertaining; standouts include Saladin Ahmed's "Meathooks on Ice," Christopher Rowe's "The Apotheosis of Todd Taszycki," and Mary Anne Mohanraj's "A Beautiful Facade," all of which allow their protagonists plenty of room for growth and change. Longtime fans will enjoy surprise appearances by previous notables, sometimes in drastically altered circumstances, and this entry also works well as a standalone. It's a treat for any fan of superhero stories." —Publishers Weekly
"Humor is a nice touch throughout…The stories are all solid and entertainingly deal with the various time paradoxes. Low Chicago is a good entry point for those new to Wild Cards, a good read for those of us who are not immersed but have some general knowledge, and another treat for true Wild Cards fans." —Locus magazine
"A genre-hopping, time-jumping, crowd-pleasing chain novel under the curation of old master Martin, he of Game of Thrones fame. The authors do a respectable job overall of tangling with the ineffable. Is it sci-fi? A viral thriller? Yes and no, and while not for every taste, a pleasure for the experimentally minded." —Kirkus Review

"Bringing together a strong group of authors, ranging from long-time Wild Cards contributors Melinda Snodgrass, Kevin Andrew Murphy, and John Jos. Miller to fresh recruits Saladin Ahmed and Mary Anne Mohanraj, Low Chicago weaves a story that travels from the neat present to the troubled 1968 Democratic convention to 1920s gangland and even Chicago's prehistoric past. The twenty-fifth Wild Cards novel should not only satisfy long-time fans of the series but also provide newcomers to it an engaging and exciting entry into its world." —Booklist
Praise for the Wild Cards series
"Perhaps the most original and provocative of the shared worlds books." —Peter S. Beagle, author of The Last Unicorn
"Delicious...Everything I hoped for in a new Wild Cards book. The character interactions and plot twists have exactly the complexity, surprise, and unsentimental realism I'd expect out of a George R. R. Martin project." —Austin Grossman, author of Soon I Will be Invincible on Inside Straight
"This is a wild ride of good, blood-pumping fun that packs a surprisingly emotional punch for a book that looks on the surface like just another superhero adventure." — Publishers Weekly on High Stakes
"Emotionally powerful. Wild Cards deals up the variety of short fiction without losing the continuity of a novel."—The Seattle Times
"A delightfully imaginative speculation."—The Toronto Star
"Martin has assembled an impressive array of writers. . . . Progressing through the decades, Wild Cards keeps its momentum to the end." —Locus
"The shared-world series known as Wild Cards has had a long and illustrious history of contributors and achievements." —SciFi.com
"New readers and fans of the long-running series will both love the fast-paced plotting and the ever-expanding history of the Wild Card virus on this alternate Earth, where even the superheroes are human." —Shelf Awareness on Lowball
"Highly recommended." —SFRevu on Lowball
Tor Books, 9780765390561, 432pp.
Publication Date: June 12, 2018
About the Author
George R.R. Martin has been a full-time writer for over 25 years. He is the author of the acclaimed, internationally bestselling fantasy series A Song of Ice and Fire, which is the basis of HBO's popular Game of Thrones television series. Martin has won multiple science fiction awards, including 4 Hugos, 2 Nebulas, the Bram Stoker, the Locus Award, the World Fantasy Award, the Daedelus, the Balrog, and the Daikon (Japanese Hugo).

The Wild Cards Trust is the creator of the Wild Cards series.