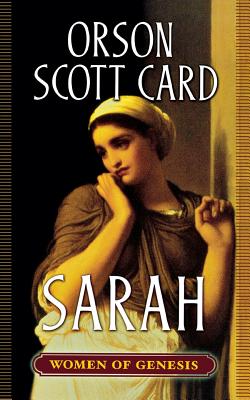 Sarah (Paperback)
Women of Genesis
Tor Books, 9780765390691, 352pp.
Publication Date: September 17, 2001
Other Editions of This Title:
Digital Audiobook (5/21/2018)
Paperback (3/20/2018)
Paperback (9/17/2001)
MP3 CD (3/1/2005)
Audio Cassette (3/1/2005)
Compact Disc (3/1/2005)
* Individual store prices may vary.
Description
Sarai was a child of ten years, wise for her age but not yet a woman, when she first met Abram. He appeared before her in her father's house, filthy from the desert, tired and thirsty. But as the dirt of travel was washed from his body, the sight of him filled her heart. And when Abram promises Sarai to return in ten years to take her for his wife, her fate was sealed.
Abram kept his promise, and Sarai kept hers they were wed, and so joined the royal house of Ur with the high priesthood of the Hebrews. So began a lifetime of great joy together, and greater peril: and with the blessing of their God, a great nation would be built around the core of their love.
Bestselling author Orson Scott Card uses his fertile imagination, and uncanny insight into human nature, to tell the story of a unique woman--one who is beautiful, tough, smart, and resourceful in an era when women had little power, and are scarce in the historical record. Sarah, child of the desert, wife of Abraham, takes on vivid reality as a woman desirable to kings, a devoted wife, and a faithful follower of the God of Abraham, chosen to experience an incomparable miracle.
About the Author
Orson Scott Card is the author of the novels Ender's Game, Ender's Shadow, and Speaker for the Dead. Ender's Game and Speaker for the Dead both won Hugo and Nebula Awards, making Card the only author to win these two top prizes in consecutive years. There are seven other novels to date in The Ender Universe series. Card has also written fantasy: The Tales of Alvin Maker is a series of fantasy novels set in frontier America; his most recent novel, The Lost Gate, is a contemporary magical fantasy. Card has written many other stand-alone sf and fantasy novels, as well as movie tie-ins and games, and publishes an internet-based science fiction and fantasy magazine, Orson Scott Card's Intergalactic Medicine Show. Card was born in Washington and grew up in California, Arizona, and Utah. He served a mission for the LDS Church in Brazil in the early 1970s. Besides his writing, Card directs plays and teaches writing and literature at Southern Virginia University. He lives in Greensboro, North Carolina, with his wife, Kristine Allen Card, and youngest daughter, Zina Margaret.
or
Not Currently Available for Direct Purchase