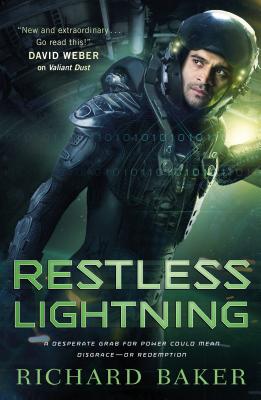 Restless Lightning
Breaker of Empires, Book 2
Hardcover

* Individual store prices may vary.
Other Editions of This Title:
Digital Audiobook (10/22/2018)
Description
Richard Baker continues the adventures of Sikander North in Restless Lightning, the second book in his new military science fiction series Breaker of Empires and sequel to Valiant Dust.

Lieutenant Sikander North has avoided an outright court martial and finds himself assigned to a remote outpost in the crumbling, alien Tzoru Empire—where the navy sends trouble-makers to be forgotten. When Sikander finds himself in the middle of an alien uprising, he, once again, must do the impossible: smuggle an alien ambassador off-world, break a siege, and fight the irrational prejudice of his superior officers. The odds are against his success, and his choices could mean disgrace—or redemption.

Breaker of Empires
#1 Valiant Dust
#2 Restless Lightning
Praise For Restless Lightning: Breaker of Empires, Book 2…
Praise for Valiant Dust

"New and extraordinary . . . Go read this!"—David Weber

"Fans of C.S. Forrester's Horatio Hornblower will delight in discovering Baker's Sikander North."—RT Book Reviews, starred review

"Valiant Dust is an excellent example of military SF at its best." —Mike Stackpole, bestselling author of Rogue Squadron

"In the finest tradition of Honor Harrington, Black Jack Geary, and Nicholas Seafort . . . an exciting new entry that fans of the genre won't want to miss." —Dayton Ward, bestselling author of 24: Trial by Fire

"Intelligent space opera with lots of vivid action . . . sociological novel which examines the problems (on both sides) of a 3rd World aristocrat in a 1st World navy whose hierarchies are equally rigid." —David Drake, author of the Hammer's Slammers series

"Intensely satisfying. Bravo! I look forward to more exploits of Sikander North!" —Ed Greenwood, creator of Forgotten Realms™

"An excellent mix of military action and political intrigue." —Eric Flint, author of the 1632 series
Tor Books, 9780765390752, 432pp.
Publication Date: October 23, 2018
About the Author
Richard Baker is a former United States Navy officer and a well-known game designer and the author of several novels. He is a lifelong devotee of science fiction and fantasy, a history enthusiast (particularly military history), and an avid fan of games of all kinds.

Rich received his commission in the US Navy and served three years as a deck officer on USS Tortuga (LSD-46), earning his Surface Warfare Officer qualification. In 1991 he left active duty to begin a twenty-five year career as a professional game designer, first with TSR, Inc., and then with Wizards of the Coast. Some of Rich's more notable game design credits include the Alternity Science Fiction Roleplaying Game, the award-winning Axis & Allies Miniatures Game, and the Axis & Allies Naval Miniatures Game—the best-selling naval wargame of all time. Rich began his writing career by working in the Forgotten Realms fantasy setting, which dovetailed with his day job as a game designer.

In 2011, Rich left Wizards of the Coast. He founded his own small-press game publishing company, Sasquatch Game Studio, in 2013. With Sasquatch, Rich created the savage world of Primeval Thule, a sword-and-sorcery game setting, and Ultimate Scheme, a game for evil geniuses. He also began working seriously on his own original fiction, seeking to combine his military experience with his love of history and science fiction—an effort that led to the creation of Sikander North and the novel Valiant Dust.

A native of the Jersey shore, Rich has resided in western Washington State since 1997. He married his college sweetheart, Kim Rohrbach, in 1991; they have two daughters, Alex and Hannah.
or
Not Currently Available for Direct Purchase