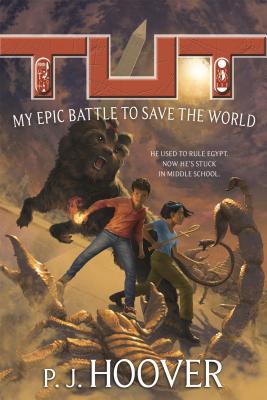 Tut (Hardcover)
My Epic Battle to Save the World (Tut: My Immortal Life #2)
Starscape, 9780765390820, 336pp.
Publication Date: February 28, 2017
Other Editions of This Title:
Paperback (2/20/2018)
* Individual store prices may vary.
Description
"Pleasantly reminiscent of Rick Riordan's work."--Publishers Weekly
Meet Tut! He used to rule Egypt. Now he's stuck in middle school.
Having defeated his evil uncle and the Cult of Set, who tried to send him to the afterlife, the perpetually fourteen-year-old King Tut is looking forward to a relaxing summer vacation. But then Tut discovers that his brother Gilgamesh has been captured by the Egyptian god Apep, Lord of Chaos. Gil helped to vanquish Apep thousands of years ago, and now Apep is back for vengeance.
It's up to Tut and his friends, Tia and Henry, to find Gil and stop Apep before he succeeds in his scheme to swallow the sun and plunge the world into darkness forever….
Tut: My Epic Battle to Save the World will appeal to fans of fast and funny mythological fantasy. Don't miss Tut's first epic adventure, Tut: The Story of My Immortal Life.
About the Author
P. J. (Tricia) Hoover wanted to be a Jedi, but when that didn't work out, she became an electrical engineer instead. After a fifteen year bout designing computer chips for a living, P. J. decided to start creating worlds of her own. She's the author of Tut: The Story of My Immortal Life, featuring a fourteen-year-old King Tut who's stuck in middle school, andSolstice, a super-hot twist on the Hades/Persephone myth. When not writing, P. J. spends time with her husband and two kids and enjoys practicing kung fu, solving Rubik's cubes, watching Star Trek, and playing too many video games.
Praise For Tut: My Epic Battle to Save the World (Tut: My Immortal Life #2)…
"A panoply of gods, goddesses, and mythical creatures is fodder for spawning interest in ancient cultures, myths, and legends." —Kirkus Reviews
"The sequel does not disappoint, offering suspense and excitement as Tut gets closer to freeing his brother from Apep…. Purchase where there are fans of the first book, or buy the series for readers looking for history and adventure." —School Library Journal
or
Not Currently Available for Direct Purchase