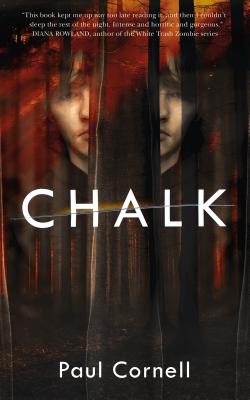 Chalk (Paperback)
A Novel
Tor.com, 9780765390950, 272pp.
Publication Date: March 21, 2017
Other Editions of This Title:
Compact Disc (3/21/2017)
MP3 CD (3/21/2017)
* Individual store prices may vary.
Description
"This is what horror ought to be: primal, personal, and powerful." — Seanan McGuire
Paul Cornell plumbs the depths of magic and despair in Chalk, a brutal exploration of bullying in Margaret Thatcher's England.
Andrew Waggoner has always hung around with his fellow losers at school, desperately hoping each day that the school bullies — led by Drake — will pass him by in search of other prey. But one day they force him into the woods, and the bullying escalates into something more; something unforgivable; something unthinkable.
Broken, both physically and emotionally, something dies in Waggoner, and something else is born in its place.
In the hills of the West Country a chalk horse stands vigil over a site of ancient power, and there Waggoner finds in himself a reflection of rage and vengeance, a power and persona to topple those who would bring him low.
About the Author
Paul Cornell is a writer of science fiction and fantasy in prose, comics and television, one of only two people to be Hugo Award nominated for all three media. A New York Times #1 Bestselling author, he's written Doctor Who for the BBC, Wolverine for Marvel, and Batman & Robin for DC. He is the author of the Witches of Lychford series for Tor.com Publishing. He's won the BSFA Award for his short fiction, an Eagle Award for his comics, and shares in Writer's Guild Award for his TV work.
Praise For Chalk: A Novel…
"Cornell brilliantly delineates not only the insular milieu of rural England but the brutal materialism of Thatcher's Britain, in a slow-building novel of retribution and cycles of abuse. Superb." —The Guardian
"This is what horror ought to be: primal, personal, and powerful. Gloriously gutting. Chalk is like nothing I've ever read before, or am ever likely to read again. Well, you can just come over here and rock me to sleep tonight."—New York Times bestselling author Seanan McGuire
"Excellent, petrifying and awful in all the right ways... Hand over mouth in parts. Strongly recommended." —Kieron Gillen, author of The Wicked & The Divine and Phonogram

"Raw and dark... powerful and inventive. Terrific." —Kurt Busiek, Harvey and Eisner Award winning creator of Astro City
"Holy Shit! I love this fucking book! This book kept me up way too late reading it, and then I couldn't sleep the rest of the night. OMG what a book. Intense and horrific and gorgeous. Damn, dude. I mean… damn."
— Diana Rowland, author of the White Trash Zombie series.
"Chalk is a raw, blistering, horror-ride through the hell of adolescence and the despair of abuse. It is honest and hard-hitting, often uncomfortable to read, yet wonderfully crafted. Gritty realism rubs up against dark folk horror, and the result is a unique literary experience you won't forget in a hurry." — Gary McMahon, author of The Concrete Grove and The Grieving Stones
"Chalk is a chilling, compelling tale of youthful violence and ancient evil." —Lucy A. Snyder, author of While the Black Stars Burn

"Harrowing, astonishing and beautiful. Read it instantly." — Laurie Penny, author of Everything Belongs to the Future
"A pitch-perfect blend of familiar cruelties, pop culture and otherworldly horror, Cornell's stand-alone novel has a power all its own." —RT Top Pick, 4 1/2 Stars
"Chalk bleeds atmosphere... the type that gets under your skin... a creeping horror, the ancient meshing with the modern, a sickening sense of dread cresting like a dark wave that, sooner or later, must hit the shore…" —Forbidden Planet International
"Chalk is a hugely evocative novel... one of the books of the year. Highly recommended." —Ginger Nuts of Horror
"Cornell weaves human and supernatural horror together in powerful and disturbing ways." —Publishers Weekly