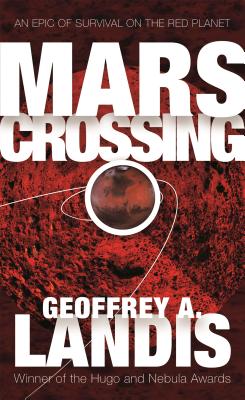 Mars Crossing (Paperback)
An Epic of Survival on the Red Planet
Tor Science Fiction, 9780765390998, 448pp.
Publication Date: December 6, 2016
* Individual store prices may vary.
Description
From Hugo and Nebula Award-winning author, Geoffrey A. Landis, comes an epic of near-future exploration of Mars in his debut Nebula Award nominated novel, Mars Crossing.
By the middle of the 21st century, humanity has finally landed men on Mars–only to watch helplessly as the first two missions end in catastrophe and death.
With resources running out, a third–and perhaps final–mission to Mars is hastily mounted, with a crew of four men and two women. But from the moment of their arrival on Mars, everything begins to go wrong. The fuel tanks that were to have supplied their return trip are found corroded and empty. Their supplies are running out and their life support systems are beginning to fail. And any rescue mission won't reach them for months, or even years–if at all.
The crew's only hope for survival lies in a desperate plan: an agonizing trek halfway across the surface of Mars to a ship designed to carry only half their number. Torn by conflict and dissent, and troubled by secrets that endanger them all, they must embark on an ordeal that will test them to the limits of endurance.
About the Author
Since his first short story was published in 1984, Geoffrey A. Landis has written more than eighty works of short fiction, garnering all of science fiction's highest honors. His debut novel, Mars Crossing, earned a Nebula Award nomination in 2002. As a working scientist he has published more than 150 papers in the fields of photovoltaics and astronautics, holds four patents on solar cell designs and is the principle investigator and designer of a number of experiments running on unmanned space probes. In 1999, he was awarded a fellowship from the NASA Institute of Advanced Concepts to help design laser-pushed light sails for interstellar vehicles.
Landis live near Cleaveland, Ohio with his wife, author Mary Turzillo, where he works on advanced concepts for the NASA John Glenn Research Center.
or
Not Currently Available for Direct Purchase