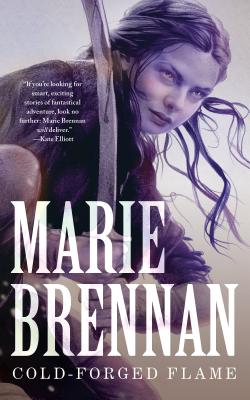 Cold-Forged Flame (Varekai #1) (Paperback)
Tor.com, 9780765391391, 112pp.
Publication Date: September 13, 2016
* Individual store prices may vary.
Description
The sound of the horn pierces the apeiron, shattering the stillness of that realm. Its clarion call creates ripples, substance, something more. It is a summons, a command. There is will. There is need.
And so, in reply, there is a woman.
At the beginning—no—at the end—she appears, full of fury and bound by chains of prophecy.
Setting off on an unexplained quest from which she is compelled to complete, and facing unnatural challenges in a land that doesn't seem to exist, she will discover the secrets of herself, or die trying. But along the way, the obstacles will grow to a seemingly insurmountable point, and the final choice will be the biggest sacrifice yet.
This is the story of a woman's struggle against her very existence, an epic tale of the adventure and emotional upheaval on the way to face an ancient enigmatic foe. This could only have been spun from the imagination of Marie Brennan, award-winning author and beloved fantasist, beginning a new series about the consequences of war—and of fate.
Cold-Forged Flame is the first in a new series by Marie Brennan.
About the Author
MARIE BRENNAN is an anthropologist and folklorist who shamelessly pillages her academic fields for material. She is the author of several acclaimed fantasy novels including A Natural History of Dragons; The Onyx Court Series: Midnight Never Come, In Ashes Lie, A Star Shall Fall, and With Fate Conspire; Warrior; and Witch. Her short stories have appeared in more than a dozen print and online publications.
Praise For Cold-Forged Flame (Varekai #1)…
"If you're looking for smart, exciting stories of fantastical adventure, look no further: Marie Brennan will deliver." — Kate Elliot, author of Black Wolves
"Brennan delights readers with this exciting, fast-paced start to a fantasy novella series." —Publishers Weekly
"An intriguing mix of folklore and fantasy." —Library Journal
or
Not Currently Available for Direct Purchase