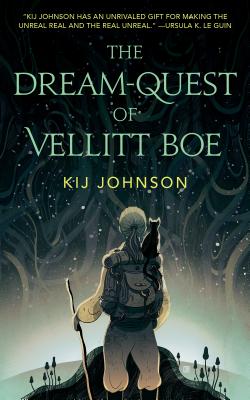 The Dream-Quest of Vellitt Boe
Paperback

* Individual store prices may vary.
Description
World Fantasy Award winner, Hugo, Nebula, John W. Campbell, and Locus Award finalist for Best Novella, and one of NPR's Best Books of 2016
Professor Vellitt Boe teaches at the prestigious Ulthar Women's College. When one of her most gifted students elopes with a dreamer from the waking world, Vellitt must retrieve her.
d"Kij Johnson's haunting novella The Dream-Quest of Vellitt Boe is both a commentary on a classic H.P. Lovecraft tale and a profound reflection on a woman's life. Vellitt's quest to find a former student who may be the only person who can save her community takes her through a world governed by a seemingly arbitrary dream logic in which she occasionally glimpses an underlying but mysterious order, a world ruled by capricious gods and populated by the creatures of dreams and nightmares. Those familiar with Lovecraft's work will travel through a fantasy landscape infused with Lovecraftian images viewed from another perspective, but even readers unfamiliar with his work will be enthralled by Vellitt's quest. A remarkable accomplishment that repays rereading." —Pamela Sargent, winner of the Nebula Award
Praise For The Dream-Quest of Vellitt Boe…
"Kij Johnson has an unrivalled gift for making the unreal real and the real unreal. In this spellbinding story, the intense reality of a quest through dreamland finds its goal in a here-and-now America that seems even stranger than the mountains and caverns of the dream. " —Ursula K. Le Guin
"By the time we finish this gorgeously written tale, we're about convinced that Lovecraft's wriggly gods and monsters are no match for smart women." — The Chicago Tribune
"In the world of Vellitt Boe everything has meaning, from the numbered stars to visions in flame... This book held me spellbound from start to finish." —NPR
"With 'The Dream-quest of Vellitt Boe,' Kij Johnson has deftly spun a delight and a wonder. Truly, this is one of my favorite weird tales of the last several years, weaving beauty, terror, and bittersweet triumph from a corner of Lovecraft's mythos that all too few dreamers dare to explore. Brava!" —Caitlín R. Kiernan
"A wondrous work of fantasy and empowerment... the story draws to a close with an utterly surprising, fascinating, and, I shall say, perfect note." — Kirkus Reviews

"Superb worldbuilding and gorgeous prose will hold readers rapt....Utterly irresistible." —Publishers Weekly Starred Review
"A solid dose of that odd mix of visceral horror and mythic vision that was the source of Lovecraft's power... the story's brilliant denouement may be its most subversive aspect of all." — Locus
Tor.com, 9780765391414, 192pp.
Publication Date: August 16, 2016
About the Author
KIJ JOHNSON is an American fantasy writer noted for her adaptations of Japanese myths and folklore. Her Tor.com story "Ponies" won the 2011 Nebula Award for Best Short Story. Her story "Fox Magic" won the 1994 Theodore Sturgeon Award, her novel The Fox Woman won the Crawford Award for best debut fantasy novel, and her subsequent novel Fudoki was a finalist for the World Fantasy Award and was cited by Publishers Weekly as one of the best fantasy novels of its year. She is also an associate director of the Center for the Study of Science Fiction at the University of Kansas.