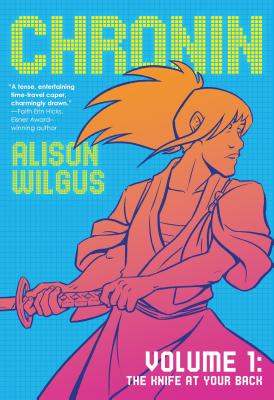 Chronin Volume 1
The Knife at Your Back
Paperback

* Individual store prices may vary.
Description
Alison Wilgus's Chronin Volume 1: The Knife at Your Back: is an action-packed, time travel adventure--first in a graphic novel duology.
Her name is Mirai Yoshida.
She was not born in Japan.
She is not supposed to be in 1864.
But, through a time-travel mishap, Mirai is stuck with no way out. Help may be found when she befriends Hatsu, a humble tea mistress harboring a dangerous secret. Yet time is running short for the entire nation, because Mirai knows that the shogunate is about to fall. Learning the way of the sword might be her only path towards survival.
"Lush historical setting, deft storytelling, and an ear for sharp dialogue." — Ethan Young, Eisner and Harvey Award-nominated author of Nanjing: The Burning City

"A fascinating, intricate story." — Tony Cliff, author of Delilah Dirk series
Praise For Chronin Volume 1: The Knife at Your Back…
"Chronin is an affecting time-travel journey: heartfelt and immensely satisfying." —Carey Pietsch, artist and co-adapter of The Adventure Zone graphic novels
"Chronin is an elegantly rendered, insightfully layered time-travel adventure that creatively explores the complex tensions around identity, power, and constructions of history. This technically adept graphic novel showcases the power of the comics medium and gives us the gift of a wonderfully dangerous world that is filled with so many amazing possibilities!" —John Jennings, artist of New York Times bestselling Kindred: A Graphic Novel Adaptation
"I liked the fish-out-of-water premise, with history students getting stranded in history and discovering that their book knowledge doesn't necessarily make it easier to survive in the past. There are some other surprises and twists in the story, so if you like time travel and samurai stories, it's worth checking out!" —GeekDad
"Clever dialogue and detailed black-and-white images create an intense and moving story with plenty of heart and a mystery readers will want to solve." —Publishers Weekly
"[T]he story has a truly fascinating premise and plumbs impressive depths, particularly in Kuji and Mirai's arguments over rebel factions during the period, which raises thoughtful questions about how ideology influences how we view history as well as the dangers of romanticizing rebellion. Deepening mysteries about Mirai and Kuji's time travel program make for a compelling cliffhanger ending to this genre-blending series starter."—Booklist
"Chronin is a tense, entertaining time travel caper, charmingly drawn and filled with endearing, complicated characters that you can't help rooting for." —Faith Erin Hicks, Eisner-Award winning author of The Adventures of Superhero Girl and The Nameless City trilogy
"A fascinating, intricate story, and Alison's love for the period is evident in every scene." — Tony Cliff, author of Delilah Dirk series
"Chronin delivers a solid story that touches on the importance of identity and history, and how they go hand in hand. With its lush historical setting and an ear for sharp dialogue, Alison Wilgus's first solo outing shows the promise of a fresh voice to comics." —Ethan Young, Eisner and Harvey Award-nominated author of Nanjing: The Burning City
Tor Books, 9780765391636, 304pp.
Publication Date: February 19, 2019
About the Author
Alison Wilgus is a Brooklyn-based bestselling writer, editor and cartoonist who's been working in comics for over a decade. She is the author of the SF graphic novel duology Chronin (Tor Books), which NPR called "timeless in more ways than one," and Book Riot called "magical," and which has garnered a host of glowing reviews. Her middle grade graphic novel Science Comics: Flying Machines was named one of the National Science Teachers Association's Best STEM Books for 2018. Her New York Times bestselling work has been published by DC Comics, Dark Horse, Del Rey, and Scholastic, and she served as a script and story writer for Cartoon Network's "Codename: Kids Next Door." In her spare time, she co-hosts a podcast about comics publishing called "Graphic Novel TK" with Gina Gagliano.
or
Not Currently Available for Direct Purchase