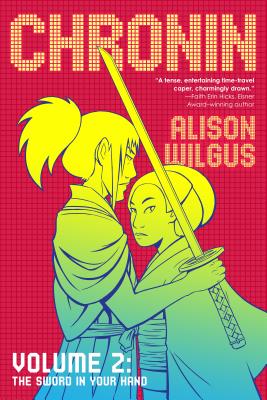 Chronin Volume 2 (Paperback)
The Sword in Your Hand
Tor Books, 9780765391643, 448pp.
Publication Date: September 10, 2019
* Individual store prices may vary.
Description
Samurai Jack meets Back to the Future in Alison Wilgus's Chronin Volume 2: The Sword in Your Hand, a thrilling conclusion to a time-bending graphic novel duology
Japan's history will never be the same. The timeline has veered off course with the abrupt deaths of prominent players in the nation's past, influencers who were supposed to start the Meiji Restoration. Now Mirai Yoshida, former Japanese-American undergrad turned samurai on the lam, may never find her way back to where she belongs.
Unless a high-stakes plan is enacted. With help from her newfound friends, Mirai must instigate a peasant uprising to correct the course of history. But in order to succeed, she faces a dangerous and powerful fellow time traveler, an enemy who accidentally glimpsed his country's destiny and didn't like what he saw.
Chronin, Volume 2: The Sword in Your Hand concludes the adrenaline-fueled adventure that asks: when time is of the essence, is it more important to save yourself or the future?
"Chronin is an affecting time-travel journey: heartfelt and immensely satisfying." —Carey Pietsch, artist and co-adapter of the New York Times-bestselling The Adventure Zone graphic novels
"Chronin is an elegantly rendered, insightfully layered time-travel adventure that creatively explores the complex tensions around identity, power, and constructions of history." —John Jennings, artist of New York Times-bestselling Kindred: A Graphic Novel Adaptation
Follow the story from the beginning in Chronin, Vol #1: The Knife at Your Back!
About the Author
Alison Wilgus is a Brooklyn-based bestselling writer, editor and cartoonist who's been working in comics for over a decade. She attended the Undergraduate Film and Television program at the Tisch School for the Arts, and got her start working for Cartoon Network's "Codename: Kids Next Door" as a colorist and staff writer. Most of her professional work since then has been writing for comics, including the nonfiction graphic novel with First Second Books: Science Comics: Flying Machines, illustrated by Molly Brooks. In her spare time, she co-hosts a podcast about comics publishing called "Graphic Novel TK" with Gina Gagliano.
Praise For Chronin Volume 2: The Sword in Your Hand…
"The Sword In Your Hand is a heartfelt story about the wonder of finding a community that sees you as you see yourself even when you're very, very far from home. Ali Wilgus's clear, expressive artwork gives the powerful emotional beats of these characters' deepening relationships the space and nuance they need to breathe, drawing together the threads of this affecting time-travel journey into a tender, well-earned, and immensely satisfying conclusion."—Carey Pietsch, artist and co-adapter of the New York Times-bestselling The Adventure Zone graphic novels
"Chronin is an elegantly rendered, insightfully layered time-travel adventure that creatively explores the complex tensions around identity, power, and constructions of history. This technically adept graphic novel showcases the power of the comics medium and gives us the gift of a wonderfully dangerous world that is filled with so many amazing possibilities!" —John Jennings, artist of New York Times bestselling Kindred: A Graphic Novel Adaptation

Previous praise for Chronin Volume 1: The Knife at Your Back

"Clever dialogue and detailed black-and-white images create an intense and moving story with plenty of heart and a mystery readers will want to solve." —Publishers Weekly
"[T]he story has a truly fascinating premise and plumbs impressive depths, particularly in Kuji and Mirai's arguments over rebel factions during the period, which raises thoughtful questions about how ideology influences how we view history as well as the dangers of romanticizing rebellion. Deepening mysteries about Mirai and Kuji's time travel program make for a compelling cliffhanger ending to this genre-blending series starter."—Booklist
"Chronin is a tense, entertaining time travel caper, charmingly drawn and filled with endearing, complicated characters that you can't help rooting for." —Faith Erin Hicks, Eisner-Award winning author of The Adventures of Superhero Girl and The Nameless City trilogy
"A fascinating, intricate story, and Alison's love for the period is evident in every scene." — Tony Cliff, author of Delilah Dirk series
"Chronin delivers a solid story that touches on the importance of identity and history, and how they go hand in hand. With its lush historical setting and an ear for sharp dialogue, Alison Wilgus's first solo outing shows the promise of a fresh voice to comics." —Ethan Young, Eisner and Harvey Award-nominated author of Nanjing: The Burning City