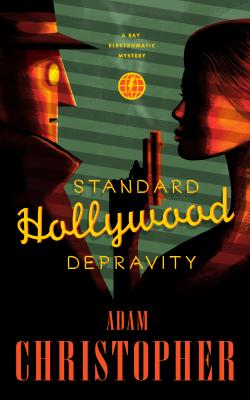 Standard Hollywood Depravity
A Ray Electromatic Mystery (Ray Electromatic Mysteries)
Paperback

* Individual store prices may vary.
Description
The moment Raymond Electromatic set eyes on her, he knew she was the dame marked in his optics, the woman that his boss had warned him about.

Honey.

As the band shook the hair out of their British faces, stomping and strumming, the go-go dancer's cage swung, and the events of that otherwise average night were set in motion. A shot, under the cover of darkness, a body bleeding out in a corner, and most of Los Angeles' population of hired guns hulking, sour-faced over un-drunk whiskey sours at the bar.

But as Ray tries to track down the package he was dispatched to the club to retrieve, his own programming might be working against him, sending him down a long hall and straight into a mobster's paradise. Is Honey still the goal—or was she merely bait for a bigger catch?

Just your standard bit of Hollywood depravity, as tracked by the memory tapes of a less-than-standard robot hitman.

Standard Hollywood Depravity is a Ray Electromatic mystery by Adam Christopher.

Ray Electromatic Mysteries
Brisk Money
Made to Kill
Standard Hollywood Depravity
Killing is My Business
Praise For Standard Hollywood Depravity: A Ray Electromatic Mystery (Ray Electromatic Mysteries)…
"Combines classic Chandlerian noir with vintage sci-fi with brilliant results: Ray the Robot, a contract killer with glimmers of half-remembered conscience, will break your heart. Truly original, and deeply satisfying."—Kelly Braffet, author of Save Yourself

"An undeniably charming hero...The dialogue and Hollywood setting are spot-on for a retro, noir feel."—Publishers Weekly


Praise for the Ray Electromatic Mysteries:

"Robot noir in 60s Los Angeles? You had me at 'Hello.'"—John Scalzi, New York Times bestselling novelist

"The dialogue is effortlessly swift and clever, and even the B-movie climax is a spectacle to behold. Above that, though, Ray sparks to live, and his antiheroic slant only makes him that much more compelling and sympathetic. Knowing that there are only two more Raymond Electromatic mysteries to come is the book's only disappointment."—NPR

"Genre mash-ups don't always succeed, but this one will please fans of both gumshoes and laser beams."—Publishers Weekly

"A fun, fast read for anyone willing to take the speculative leap—a must-add for most fiction collections."—Booklist (starred review)

"Made to Kill is yet more proof that we should all be thankful for Adam Christopher and his imagination. This tale of robot noir is unlike anything I've ever read — Adam's is a weird and wonderful voice and we are lucky to have it."—Chuck Wendig, New York Times bestselling author of Aftermath

"Adam Christopher has brilliantly deduced what should have been obvious all along: Classic noir and robots are a perfect match. Part Chandler, part Asimov, and part Philip K. Dick, Made to Kill is a rip-roaring cocktail of smart, sharp, twisty, cyber-pulp awesomeness."—Adam Sternbaugh, author of Shovel Ready

"Made to Kill is just the sort of exciting genre collision that marks out Adam Christopher as one of the hottest new young SF writers."—Paul Cornell, author of The Severed Streets

"A smart, rollicking noir/SF mashup. One of the best books I've read all year."—Kelly Braffet, author of Save Yourself
Tordotcom, 9780765391834, 144pp.
Publication Date: March 7, 2017
About the Author
Adam Christopher is a novelist and comic writer. In 2010, as an editor, Christopher won a Sir Julius Vogel award, New Zealand's highest science fiction honor. His debut novel, Empire State, was SciFiNow's Book of the Year and a Financial Times Book of the Year for 2012. In 2013, he was nominated for the Sir Julius Vogel award for Best New Talent, with Empire State shortlisted for Best Novel. His other novels include The Age Atomic and The Burning Dark.