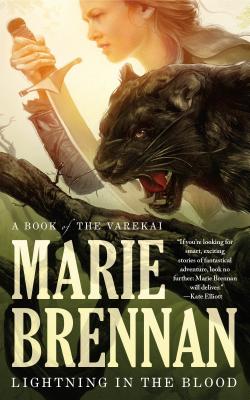 Lightning in the Blood (Paperback)
A Book of the Varekai
Tor.com, 9780765392015, 128pp.
Publication Date: May 30, 2017
* Individual store prices may vary.
Description
Once, there was a call—a binding—and so, a woman appeared, present in body but absent in knowledge of her past self.
Making the ultimate journey of rediscovery was not without its own pitfalls—or rewards—and now Ree, a roaming archon, spirit of legend and time and physically now bound to her current form, has yet to fully uncover her true identity.
Ree has spent her last innumerable seasons on the move—orbiting, in some sense, the lands of her only friend in this world, Aadet, who has become intricately involved in the new post-revolution politics of his people. Swinging back from the forests surrounding Solaike, Ree falls in with another wandering band, some refugees accompanied by their own archon, who seems to know much more about Ree's own origins than she ever dared to hope.
Lushly woven against a foreign, and yet familiar, fantastical setting, Lightning in the Blood is the second epic adventure in Marie Brennan's novella series with Tor.com.
About the Author
MARIE BRENNAN is an anthropologist and folklorist who shamelessly pillages her academic fields for material. She is the author of several acclaimed fantasy novels including A Natural History of Dragons; The Onyx Court Series: Midnight Never Come, In Ashes Lie, A Star Shall Fall, and With Fate Conspire; Warrior; and Witch. Her short stories have appeared in more than a dozen print and online publications.
Praise For Lightning in the Blood: A Book of the Varekai…
"Ree's hunger for self-realization adds depth to the rich worldbuilding and exciting action sequences." —Publishers Weekly
PRAISE FOR COLD-FORGED FLAME
"If you're looking for smart, exciting stories of fantastical adventure, look no further: Marie Brennan will deliver." — Kate Elliot, author of Black Wolves
"Brennan delights readers with this exciting, fast-paced start to a fantasy novella series." —Publishers Weekly
"An intriguing mix of folklore and fantasy." —Library Journal