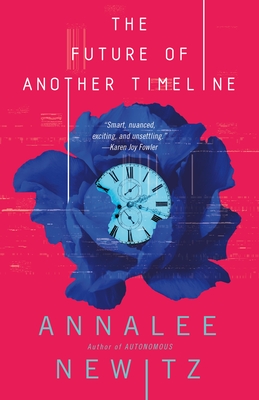 The Future of Another Timeline (Hardcover)
Tor Books, 9780765392107, 352pp.
Publication Date: September 24, 2019
* Individual store prices may vary.
Description
"A revolution is happening in speculative fiction, and Annalee Newitz is leading the vanguard." -- Wil Wheaton
From Annalee Newitz, founding editor of io9, comes a story of time travel, murder, and unlikely allies separated by centuries, battling for a world in which anyone can change the future.
1992: Beth, a teenage riot grrl, witnesses a murder and realizes something is deeply wrong with her life--maybe it's her best friend, maybe it's her dad, or maybe it's the strange woman who keeps trying to warn her about what's coming.
2022: Tess, a time-traveling geologist, journeys to different eras for her research, while secretly hoping to correct a mistake from her past that haunts her still.
Their lives become mysteriously intertwined as war breaks out across the timeline--a war that threatens to destroy time travel, leaving only a small group of elites with the power to shape the past, present, and future.
"An intelligent, gut-wrenching glimpse of how tiny actions, both courageous and venal, can have large consequences. Smart and profound on every level." – Publishers Weekly (starred review)
"You close the book reeling with questions about your own life and your part in changing the future." -- Amy Acker, actress Angel and Person of Interest
About the Author
Annalee Newitz is an American journalist, editor, and author of both fiction and nonfiction. She is the recipient of a Knight Science Journalism Fellowship from MIT, and has written for Popular Science, Wired, and the The New Yorker. She founded the science fiction website io9 and served as Editor-in-Chief from 2008–2015, and subsequently was Editor-in-Chief Gizmodo and Tech Culture Editor at Ars Technica. Annalee's book Scatter, Adapt, and Remember: How Humans Will Survive a Mass Extinction was nominated for the LA Times Book Prize in science, and her highly acclaimed debut novel Autonomous, won a Lambda Award.
Praise For The Future of Another Timeline…
"A revolution is happening in speculative fiction, and Annalee Newitz is leading the vanguard." -- Wil Wheaton, actor Star Trek and Big Bang Theory
"Few stories are as smart, as nuanced, as exciting, and as unsettling as this one....engrossing and impactful." — Karen Joy Fowler, bestselling author of We Are All Completely Beside Ourselves
"It's like Newitz has written a science fiction addendum to Handmaids Tale... She flawlessly weaves between time and characters and creates a feminist, sci-fi, thrill-ride integrated into a covert history lesson. You close the book reeling with questions about your own life and your part in changing the future." —Amy Acker, actress Angel and Person of Interest
"A page-turner and an ambitious feminist lens on the time-traveler story." — Kelly Sue DeConnick creator of Bitch Planet, writer for Captain Marvel
"A glorious tale of hope in the face of outrage, an anthem of timeless resistance against the powers that would lead us to our worst futures." —Ken Liu, Author of The Paper Menagerie and Other Stories and The Grace of Kings

"The Future of Another Timeline does brilliantly what SF does best: makes metaphor concrete to illuminate the human condition. In this case, the idea that women are consistently written out of history by men is turned into a visceral reality, and secret history becomes a thrilling secret war." —Nicola Griffith, author of Hild
"The best punk rock / time travel / Chicago history / riot girl / mindf*ck of a book I have ever read. Grape Ape Forever!" --Dan Sinker, creator of Punk Planet magazine
"The Future of Another Timeline is the mind-blowing punk feminist sci-fi time traveling thriller you've been waiting for, and which our culture desperately needs. Packed with action, sass, righteousness, technology and danger, it just might be a perfect book." —Michelle Tea
"A multilayered tale of "editing" history, human rights, and the ripple effect. Smart and profound on every level." —Publishers Weekly (starred review)
"Clever, compelling and utterly original." —Laurie Penny, author of Everything Belongs to the Future
"Exciting and urgent." —Saladin Ahmed, Eisner winning author of Black Bolt, Exiles, and Throne of the Crescent Moon