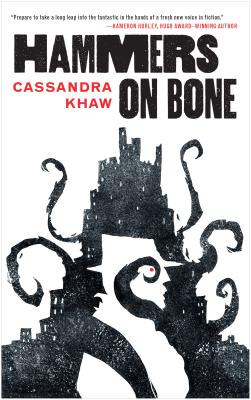 Hammers on Bone (Persons Non Grata #1)
Paperback

* Individual store prices may vary.
Description
Cassandra Khaw bursts onto the scene with Hammers on Bone, a hard-boiled horror show that Charles Stross calls "possibly the most promising horror debut of 2016." A finalist for the British Fantasy award and the Locus Award for Best Novella!


John Persons is a private investigator with a distasteful job from an unlikely client. He's been hired by a ten-year-old to kill the kid's stepdad, McKinsey. The man in question is abusive, abrasive, and abominable.

He's also a monster, which makes Persons the perfect thing to hunt him. Over the course of his ancient, arcane existence, he's hunted gods and demons, and broken them in his teeth.

As Persons investigates the horrible McKinsey, he realizes that he carries something far darker. He's infected with an alien presence, and he's spreading that monstrosity far and wide. Luckily Persons is no stranger to the occult, being an ancient and magical intelligence himself. The question is whether the private dick can take down the abusive stepdad without releasing the holds on his own horrifying potential.
Praise For Hammers on Bone (Persons Non Grata #1)…
"Cassandra Khaw's explosive, evocative prose is a treat to read. Khaw's ability to transform the mundane into the deeply phantasmagorical is nothing short of magical. Prepare to take a long leap into the gory, the weird, and the fantastic in the hands of a fresh new voice in fiction." —Kameron Hurley, Hugo Award-winning author of Mirror Empire and The Geek Feminist Revolution

"Khaw brilliantly combines the self-aware, on-point tone of their gumshoe narrator with the invasive rhythm of the language of pulsing terrors. The drearily everyday is infused with Lovecraftian dread in a marvelously horrifying, tightly built novella that spins a satisfying tale while doing honor to both of its core sources." —Publishers Weekly, starred review

"A glorious fusion of the classic noir detective thriller with Lovecraftian horror, like the squamous tentacular lovechild of Raymond Chandler and H. P. Lovecraft hatching from a five-dimensional egg to slouch down these dark streets in search of human minds to flay. Seriously? Possibly the most promising horror debut of 2016, a suitable light in these dark times." —Charles Stross

"Hammers on Bone is sly and amusing and sharp and I wound up digging the hell out of it." —Scott Lynch

"Khaw has a definite flair for the grotesque." —RT Book Reviews

"[An] incredible novella... Hammers on Bone transcends its genre – thanks in no small part to its private-investigatorand-monster protagonist and its very London setting – to become a timeless (and disturbing) parable about monsters." —Locus

"Khaw paints a bleak yet potent alternate reality in which monsters—friend or foe—are devastatingly real. Persons strikes a perfect antihero stance that is emotionally fragile despite his supernatural power. Hammers on Bone is a brilliant blend of two venerable genres as well as a deeply affecting tale on its own." —Shelf Awareness, starred review

"Hammers on Bone is an easy read on a hard subject." —BleedingCool

"Khaw mixes noir tropes straight out of a Dashiell Hammett novel with lush, atmospheric horror making for a vibrant, visceral read." —The B&N Sci-Fi and Fantasy Blog

"Sizzling prose over a steamy noir beat with horrific monstrosities throughout. A helluva read." —Daniel José Older, New York Times bestselling author of Shadowshaper and Midnight Taxi Tango

"Hammers on Bone is a delectable surprise, a discomfiting nightmare in novella shape, its eyes looking back at you to ask: who are the real monsters, little reader?" —Book Smugglers

"Absolutely fantastic monsters-meet-gritty-noir story." —Mike Laidlaw, creative director for Dragon Age

"Atmospheric Lovecraftian noir with a really tremendous eye for detail… If you like Dashiel Hammett and Lovecraft, this is a very effective blend." —Aliette de Bodard, Nebula Award-winning author of The House of Shattered Wings

"This is jolly good. You really ought to read this." —Jonathan L. Howard, author of the Johannes Cabal and Carter & Lovecraft series

"So hardboiled you could crack demon heads with it, this twisting and turning Lovecraftian PI mystery is a delight. Cassandra Khaw — fast becoming one of the hottest names in fantasy fiction — has a light, assured touch and an inimitable style. I'll read anything they write." —Lavie Tidhar, World Fantasy Award-winning author of A Man Lies Dreaming and The Violent Century

"Cassandra Khaw blows the dust off Lovecraft's prose to resurrect the Elder Gods in a white-hot, eyeball-popping adventure." —Ferrett Steinmetz, author of Flex

"Khaw is one of the most exciting writers I've seen emerge in the past two years. [Hammers on Bone] is Lovecraftian in all the best ways." —Silvia Moreno-Garcia, author of Certain Dark Things

"One hell of a delicious, hardbitten, unflinching experience." —Alyssa Wong, Nebula and World Fantasy Award-winning author of "Hungry Daughters of Starving Mothers
Tordotcom, 9780765392718, 112pp.
Publication Date: October 11, 2016
About the Author
CASSANDRA KHAW is an award-winning game writer, and former scriptwriter at Ubisoft Montreal. Khaw's work can be found in places like Fantasy & Science Fiction, Lightspeed, and Tor.com. Khaw's first original novella, Hammers on Bone, was a British Fantasy award and Locus award finalist, and their novella, Nothing But Blackened Teeth, is published by Nightfire.