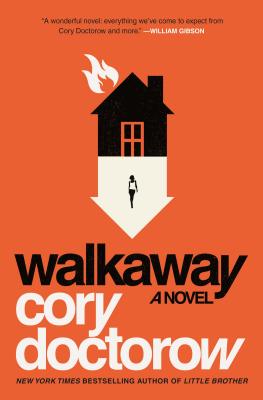 Walkaway
A Novel
Hardcover

* Individual store prices may vary.
Other Editions of This Title:
Digital Audiobook (4/24/2017)
Paperback (5/22/2018)
MP3 CD (4/25/2017)
Compact Disc (4/25/2017)
Compact Disc (4/25/2017)
Description
Kirkus' Best Fiction of 2017

From New York Times bestselling author Cory Doctorow, an epic tale of revolution, love, post-scarcity, and the end of death.

"Walkaway is now the best contemporary example I know of, its utopia glimpsed after fascinatingly-extrapolated revolutionary struggle." —William Gibson

Hubert Vernon Rudolph Clayton Irving Wilson Alva Anton Jeff Harley Timothy Curtis Cleveland Cecil Ollie Edmund Eli Wiley Marvin Ellis Espinoza—known to his friends as Hubert, Etc—was too old to be at that Communist party.

But after watching the breakdown of modern society, he really has no where left to be—except amongst the dregs of disaffected youth who party all night and heap scorn on the sheep they see on the morning commute. After falling in with Natalie, an ultra-rich heiress trying to escape the clutches of her repressive father, the two decide to give up fully on formal society—and walk away.

After all, now that anyone can design and print the basic necessities of life—food, clothing, shelter—from a computer, there seems to be little reason to toil within the system.

It's still a dangerous world out there, the empty lands wrecked by climate change, dead cities hollowed out by industrial flight, shadows hiding predators animal and human alike. Still, when the initial pioneer walkaways flourish, more people join them. Then the walkaways discover the one thing the ultra-rich have never been able to buy: how to beat death. Now it's war – a war that will turn the world upside down.

Fascinating, moving, and darkly humorous, Walkaway is a multi-generation SF thriller about the wrenching changes of the next hundred years…and the very human people who will live their consequences.
Praise For Walkaway: A Novel…
Praise for Walkaway

"Is Doctorow's fictional utopia bravely idealistic or bitterly ironic? The answer is in our own hands. A dystopian future is in no way inevitable; Walkaway reminds us that the world we choose to build is the one we'll inhabit. Technology empowers both the powerful and the powerless, and if we want a world with more liberty and less control, we're going to have to fight for it."—Edward Snowden

"The darker the hour, the better the moment for a rigorously-imagined utopian fiction. Walkaway is now the best contemporary example I know of, its utopia glimpsed after fascinatingly-extrapolated revolutionary struggle. A wonderful novel: everything we've come to expect from Cory Doctorow and more."—William Gibson

"The Bhagavad Gita of hacker/maker/burner/open source/git/gnu/wiki/99%/adjunctfaculty/Anonymous/shareware/thingiverse/cypherpunk/LGTBQIA*/squatter/upcycling culture...zipped it down into a pretty damned tight techno-thriller with a lot of sex in it."—Neal Stephenson

"Cory Doctorow is one of our most important science fiction writers, because he's also a public intellectual in the old style: he brings the news and explains it, making clearer the confusions of our wild current moment. His fiction is always the heart of his work, and this is his best book yet, describing vividly the revolutionary beginnings of a new way of being. In a world full of easy dystopias, he writes the hard utopia, and what do you know, his utopia is both more thought-provoking and more fun."—Kim Stanley Robinson

"Thrilling and unexpected....A truly visionary techno-thriller that not only depicts how we might live tomorrow, but asks why we don't already." Kirkus (starred review)

"Doctorow has envisioned a fascinating world...This intriguing take on a future that might be right around the corner is bound to please." —Library Journal

"Memorable and engaging. ...Ultimately suffused with hope." —Booklist

"This book genuinely inspired me....Walkaway could well be the most significant novel of the tens." —Strange Horizons

"A page-turner that explores a revolutionary response to the bourgeois elite." —Cascadia Weekly


"A satisfyingly credible and compelling world...with ample thought given to how the choices we make in dealing with individuals shapes the foundation of the society in which we live." —Winnipeg Free Press

"A bravura piece of storytelling, and marks a powerful shift in awareness and understanding." —National Post
Tor Books, 9780765392763, 384pp.
Publication Date: April 25, 2017
About the Author
Cory Doctorow is a regular contributor to the Guardian, Locus, and many other publications. He is a special consultant to the Electronic Frontier Foundation, an MIT Media Lab Research Associate and a visiting professor of Computer Science at the Open University. His award-winning novel Little Brother and its sequel Homeland were a New York Times bestsellers. His novella collection Radicalized was a CBC Best Fiction of 2019 selection. Born and raised in Canada, he lives in Los Angeles.
or
Not Currently Available for Direct Purchase