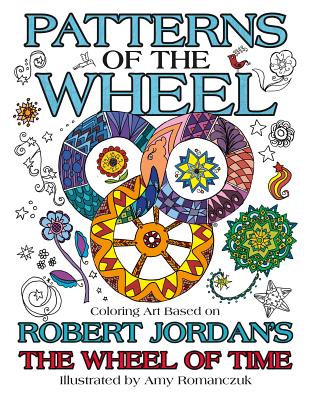 Patterns of the Wheel (Paperback)
Coloring Art Based on Robert Jordan's The Wheel of Time (Wheel of Time Other)
Tor Books, 9780765392824, 96pp.
Publication Date: October 25, 2016
* Individual store prices may vary.
Description
Let the Dragon be drawn again on the winds of time. Patterns of the Wheel is an adult coloring book suitable for all ages featuring original art drawn from The Wheel of Time ®, a perfect gift for fans of Robert Jordan's fantasy epic.
Since its debut in 1990, The Wheel of Time by Robert Jordan has captivated millions of readers around the globe with its scope, originality, and compelling characters. Over the course of fifteen books and millions of words, the world that Jordan created grew in depth and complexity.
Now for the very first time, fans of this astounding saga can color in the hues and vibrant shades of Robert Jordan's most beloved fantasy world. Adorn the symbols of the Ajah and the patterns on Gleeman's Cloak. Experience the peaks of Dragonmount, the depths of the Aryth Ocean, and other parts of the realm. Fill in evocative mandalas, depictions of Old Tongue, and an array of the Wheel of Time's most well-known symbols and magical items.
Designed by officially-licensed Wheel of Time artist Amy Romanczuk, Patterns of the Wheel features 40 drawings inspired by pysanky, a traditional Ukrainian folkart, to provide hours of delight for The Wheel of Time's legions of fans.
About the Author
Robert Jordan
was born in 1948 in Charleston, South Carolina. He taught himself to read when he was four with the incidental aid of a twelve-years-older brother, and was tackling Mark Twain and Jules Verne by five. He was a graduate of The Citadel, the Military College of South Carolina, with a degree in physics. He served two tours in Vietnam with the U.S. Army; among his decorations are the Distinguished Flying Cross with bronze oak leaf cluster, the Bronze Star with "V" and bronze oak leaf cluster, and two Vietnamese Gallantry Crosses with palm. A history buff, he also wrote dance and theater criticism and enjoyed the outdoor sports of hunting, fishing, and sailing, and the indoor sports of poker, chess, pool, and pipe collecting. Robert Jordan began writing in 1977 and went on to write The Wheel of Time®, one of the most important and best selling series in the history of fantasy publishing with over 14 million copies sold in North America, and countless more sold abroad. Robert Jordan died on September 16, 2007, after a courageous battle with the rare blood disease amyloidosis.
AMY ROMANCZUK is an self-taught pysanky artist behind Tor Books' adult coloring book Patterns of the Wheel. She has been writing pysanky since 1996. Several of Amy's original design pysanky were accepted to the collection of Kolomyia Museum of Hutsul Folk Art (Kolomyiskyi muzei narodnoho mystetstva Hutsulshchyny) in Ukraine. She has taken the designs and details of her craft to inkwork, paintings, and coloring art. Her works can be found in several galleries and online at czukart.com.
Amy is an officially licensed Wheel of Time™ artist. The Wheel of Time™ Gallery reflects her original pysanky-style folk art on eggshell, paintings, drawings, and coloring art based on Robert Jordan's Wheel of Time™ series. Amy lives in Charleston, South Carolina.
Praise For Patterns of the Wheel: Coloring Art Based on Robert Jordan's The Wheel of Time (Wheel of Time Other)…
"For fans of Robert Jordan's expansive series, this will be a great addition to their collection, one that gives them the added fun of coloring it and making it their own." —San Francisco Book Review