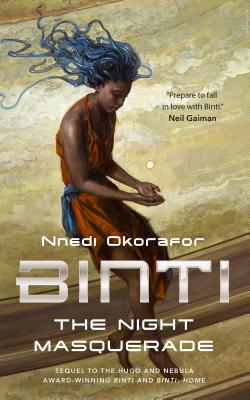 Binti (Paperback)
The Night Masquerade
Tor.com, 9780765393135, 208pp.
Publication Date: January 16, 2018
Other Editions of This Title:
Digital Audiobook (9/21/2015)
Paperback (9/22/2015)
Paperback (1/31/2017)
Hardcover (7/24/2018)
Compact Disc (1/9/2018)
MP3 CD (4/17/2018)
Compact Disc (4/17/2018)
MP3 CD (1/9/2018)
* Individual store prices may vary.
Description
The concluding part of the highly-acclaimed science fiction trilogy that began with Nnedi Okorafor's Hugo- and Nebula Award-winning BINTI.
Binti has returned to her home planet, believing that the violence of the Meduse has been left behind. Unfortunately, although her people are peaceful on the whole, the same cannot be said for the Khoush, who fan the flames of their ancient rivalry with the Meduse.
Far from her village when the conflicts start, Binti hurries home, but anger and resentment has already claimed the lives of many close to her.
Once again it is up to Binti, and her intriguing new friend Mwinyi, to intervene--though the elders of her people do not entirely trust her motives--and try to prevent a war that could wipe out her people, once and for all.
Don't miss this essential concluding volume in the Binti trilogy.
The Binti Series
Book 1: Binti
Book 2: Binti: Home
Book 3: Binti: The Night Masquerade
About the Author
Nnedi Okorafor, born to Igbo Nigerian parents in Cincinnati, Ohio on April 8, 1974, is an author of fantasy and science fiction for both adults and younger readers. Her children's book Long Juju Man (Macmillan, 2009) won the 2007-08 Macmillan Writer's Prize for Africa, and her adult novel Who Fears Death (DAW, 2010) was a Tiptree Honor Book. She is an associate professor of creative writing and literature at the University at Buffalo.
Praise For Binti: The Night Masquerade…
"Nnedi Okorafor writes glorious futures and fabulous fantasies. Her worlds open your mind to new things, always rooted in the red clay of reality. Prepare to fall in love with Binti." —Neil Gaiman, New York Times bestselling author of American Gods
"The prose is vivid and unadorned, the pacing strong, and the novella as a whole, deeply compelling. I enjoyed it. I hope Okorafor writes more." —Locus
PRAISE FOR BINTI: HOME
"Okorafor's writing is wonderful, and the details of her world-building — including Binti's rich culture of origin, living spaceships, and maths that reads almost like music — are complex and fascinating" —Veronica Roth
"Okorafor's writing is even more beautiful than I remember it being in Binti, evocative and sharply elegant in its economy." —NPR
"[Binti: Home] opens up Binti's tale in astonishing ways, while provocatively exploring questions of identity and kinship." —The Chicago Tribune
"Nnedi Okorafor's imagination and worldbuilding are unparalleled, as are the heartfelt emotional struggles she creates." —Jim C. Hines, author of Blood of Heroes and the Goblin Quest trilogy
PRAISE FOR BINTI AND NNEDI OKORAFOR
"Binti is a supreme read about a sexy, edgy Afropolitan in space! It's a wondrous combination of extra-terrestrial adventure and age-old African diplomacy. Unforgettable!"—Wanuri Kahiu, award winning Kenyan film director of Pumzi and From a Whisper
"There's more vivid imagination in a page of Nnedi Okorafor's work than in whole volumes of ordinary fantasy epics." — Ursula Le Guin
"Okorafor's impressive inventiveness never flags." — Gary K. Wolfe on Lagoon