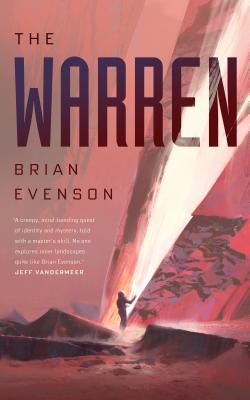 The Warren (Paperback)
A Novel
Tor.com, 9780765393159, 96pp.
Publication Date: September 20, 2016
* Individual store prices may vary.
Description
X doesn't have a name. He thought he had one—or many—but that might be the result of the failing memories of the personalities imprinted within him. Or maybe he really is called X.
He's also not as human as he believes himself to be.
But when he discovers the existence of another—above ground, outside the protection of the Warren—X must learn what it means to be human, or face the destruction of their two species.
The Warren is a new novella from Brian Evenson.
About the Author
BRIAN EVENSON is the author of a dozen books of fiction, including the story collections A Collapse of Horses (Coffee House Press, 2016), Windeye (Coffee House Press 2012) and the novel Immobility (Tor 2012), the latter two of which were finalists for a Shirley Jackson Award. His novel Last Days won the American Library Association's award for Best Horror Novel of 2009). His novel The Open Curtain (Coffee House Press) was a finalist for an Edgar Award and an International Horror Guild Award.
Praise For The Warren: A Novel…
"A creepy, mind-bending quest of identity and mystery, told with a master's skill. No one explores inner landscapes quite like Brian Evenson." —Jeff VanderMeer, New York Times Bestselling author of the Southern Reach Trilogy
"A suspenseful, darkly comic tale." —The New York Times Book Review
"What is a human? What is a person? The Warren is a truly original exploration of these questions—the kind of work that causes one to re-examine long-held certainties. Profound and deeply unsettling, in the best way possible." —Charles Yu, author of How to Live Safely in a Science Fictional Universe
"At the core of the story is the gripping idea of life's slow potential extinction." —Publishers Weekly
"Area X meets Duncan Jones' first and finest movie Moon in a marvellously mystifying novella that wants to know what it means to be human in a world where people can be constructed like sculptures shaped from clay." — The Speculative Scotsman
"I loved this story. It's frustrating in a weird, delicious way." — All About Books
"Deliciously frustrating."—LitReactor
"I suggest you pick up The Warren to experience the eeriness for yourself." — Horrortalk
"The Warren takes us back to the true potential of the genre, simultaneously asking cosmologically existential questions and lacing those questions with fascinating and unnerving intimacy." — Angel City Review
"It's focussed on the idea of identity and what it means to be real. Interesting and unique… it makes you think. 4 Stars." — Booked Podcast
"I continually had to remind myself that I wasn't reading an already established sci-fi classic. It was that good. a fast read, gripping and engaging from start to finish. A definite must-read." — SciFi Addicts