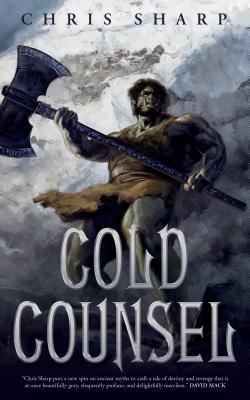 Cold Counsel
Paperback

* Individual store prices may vary.
Description
In Chris Sharp's new epic fantasy Cold Counsel, Slud of the Blood Claw Clan, Bringer of Troubles, was born at the heart of the worst storm the mountain had ever seen. Slud's father, chief of the clan, was changed by his son's presence. For the first time since the age of the giants, he rallied the remaining trolls under one banner and marched to war taking back the mountain from the goblin clans.

However, the long-lived elves remembered the brutal wars of the last age, and did not welcome the return of these lesser-giants to martial power. Twenty thousand elves marched on the mountain intent on genocide. They eradicated the entire troll species—save two.

Aunt Agnes, an old witch from the Iron Wood, carried Slud away before the elves could find them. Their existence remained hidden for decades, and in that time, Agnes molded Slud to become her instrument of revenge.

For cold is the counsel of women.
Praise For Cold Counsel…
"In Cold Counsel, Chris Sharp puts a new spin on ancient myths to craft a tale of destiny and revenge that is at once beautifully gory, eloquently profane, and delightfully merciless." —David Mack, New York Times bestselling author of 24: Rogue

"This Asgardpunk world of giant trolls, expletive-spewing goblins, and deep magics is not one to miss." — B&N Sci-Fi & Fantasy Blog

"This is an old school, classic adventure for all those young at heart and willing to join the heat of battle. Sharp by name and by craft: he's not just an excellent actor, but also an excellent writer."—Jeremy Szal, Starship Sofa

"Sharp's well-written tale following a Troll's destiny is highly recommended, firstly for the plot and action, secondly to say you have read a book where the Troll was the hero." —Fantasy Book Review
Tor.com, 9780765393296, 272pp.
Publication Date: February 21, 2017
About the Author
CHRIS SHARP grew up in the suburban wonderland of Alexandria, VA, where he cut his nerd teeth playing role-playing games and making gore movies with his friends. He studied English Literature and Anthropology at Brown University, and Mayan Archaeology at the Harvard Field School in Honduras. He then spent sixteen years in Brooklyn, NY, where he worked in film and commercial production by day, and was yet another wannabe novelist by night. Some of the films he made with his childhood friends have gained international distribution and won numerous awards at festivals around the world. His first novel, The Elementalists, is the first in a dark YA series and was called one of the "Overlooked Books of 2014", by Slate Magazine. Chris now lives in Concord, MA, with his wife, daughter and an insufferable cat named Goblin.
or
Not Currently Available for Direct Purchase