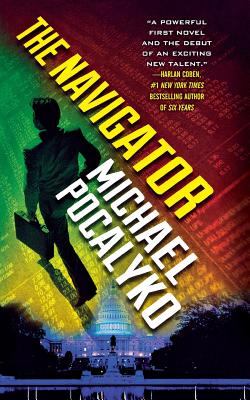 The Navigator (Paperback)
Forge Books, 9780765394057, 368pp.
Publication Date: March 25, 2014
Other Editions of This Title:
Hardcover (6/11/2013)
Compact Disc (4/7/2020)
MP3 CD (7/5/2016)
Paperback (3/25/2014)
* Individual store prices may vary.
Description
Wall Street comes to Washington in Michael Pocalyko's The Navigator.
On the darkest night of 1945, a 20-year-old B-24 navigator assists in the liberation of a German concentration camp. His haunting trauma is prologue to destiny.
Flash forward to present-day Manhattan. Warren Hunter, reigning master of the financial universe, is poised to close the world's first trillion dollar deal. ViroSat is the Street's biggest-ever technology play—an entirely new worldwide communication system. It will catapult his investment bank and the global economy into a bright future . . . if the deal goes through.
In Washington, ViroSat captures the attention of Senate political aide Julia Toussaint. Meanwhile, battered tech start-up veteran Rick Yeager has just landed his dream job at a mysterious but well-connected financial firm whose partners want a piece of the action.
Warren, Julia, and Rick are caught in a web of intrigue, money, power, and dangerous secrets. Coincidences are not what they seem as the past collides with the present in a way that will change their lives forever.
A gripping story written by a consummate insider from both Washington and Wall Street, Michael Pocalyko's The Navigator is a furiously-paced parable of our troubled age.
About the Author
MICHAEL POCALYKO is CEO of Monticello Capital, a boutique investment bank.  He's been a combat aviator, Navy commander, political candidate, venture capitalist, and global corporate chair. He is the author of The Navigator. He has degrees from Muhlenberg, Harvard, and Wharton, and lives in northern Virginia and the Shenandoah Valley.
Praise For The Navigator…
"Wall Street. Washington. Intelligence. The Navigator gives you the smartest, wildest ride of your life." —Norb Vonnegut, bestselling author of The Trust
"Pocalyko knows Wall Street and Washington and it shows in The Navigator. He skillfully weaves a web of intrigue that brings together both of those fascinating worlds in a neat, fast-paced package. The plot is deftly conceived and artfully executed, the action is everywhere, the characters are compelling and the ending is worth the wait." —Stephen Frey, New York Times bestselling author of Heaven's Fury
"A powerful first novel and the debut of an exciting new talent." —Harlan Coben, #1 New York Times bestselling author of Six Years
"Pocalyko was one tough dog back in the day when I jumped out of his helicopter--and no, you aren't cleared to know where and why. There's no better, more hard-hitting insider in finance, the intelligence community, or Washington politics. The Navigator is a brilliant novel, fast-paced, haunting, and as well executed as a night drop. Enjoy the ride, because here comes the deal of the century." —Richard Marcinko, New York Times bestselling author of Rogue Warrior: Blood Lies
"If you have any interest in high-powered businessmen or political leaders, you need to read this page-turner of a novel. It's a breakthrough in our emotional understanding of the impact history makes on our troubled emotional and financial present, while deeply affirming our future." —Justin A. Frank, M.D., New York Times Bestselling Author of Bush on the Couch and Obama on the Couch
"The combination of politics, international finance and intelligence make The Navigator a smart and fascinating read." —Kitty Pilgrim, international journalist, former CNN anchor, and bestselling novelist, author of The Explorer's Code and The Stolen Chalice.