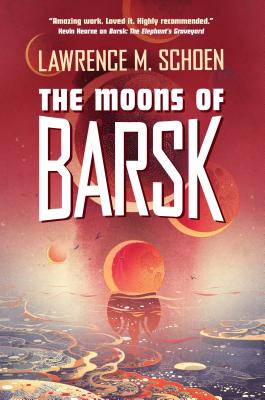 The Moons of Barsk
Hardcover

* Individual store prices may vary.
Description
High-concept science fiction, deeply human characters, and a weirdly wonderful story drive The Moons of Barsk, the sequel to the award-winning Lawrence M. Schoen's Barsk: The Elephants' Graveyard
Pizlo, the lonely young outcast and physically-challenged Fant, is now a teenager. He still believes he hears voices from the planet's moons, imparting secret knowledge to him alone. And so embarks on a dangerous voyage to learn the truth behind the messages. His quest will catapult him offworld for second time in his short life, and reveal things the galaxy isn't yet ready to know.
Elsewhere, Barsk's Senator Jorl, who can speak with the dead, navigates galactic politics as Barsk's unwelcome representative, and digs even deeper into the past than ever before to discover new truths of his own.
Praise For The Moons of Barsk…
For Barsk:
"Weird, wise, and worldly, Barsk: The Elephants' Graveyard is a triumph." —Robert J. Sawyer, Hugo Award-winning author of Red Planet Blues
"The second you encounter the arboreal uplifted elephants who speak with the dead, you know you're reading a work of singular imaginative power. It's a delight from beginning to end." —Walter Jon Williams, Nebula Award-winning author of the Metropolitan series
"A captivating, heartwarming story in a unique and fantastic world... as rich and mysterious as Dune." —James L. Cambias, author of A Darkling Sea
"A heartfelt and wonderfully weird book: a space opera about kindness and memory." —Max Gladstone, author of the Craft Sequence
"A masterful, onion-layered tale of pariahdom, treachery, and genocide that ultimately reveals the true deathlessness of hope and love." —Charles E. Gannon, author of Fire With Fire
"Combines excellent characters and a fascinating world. What really makes it work is how he deftly weaves together startling SFnal ideas with character-based intrigue. You'll really care for these characters, even as you find them believably alien. I found it a compulsive page-turner and immensely enjoyable." —Karl Schroeder, author of Lockstep
"Powerful. Grand in scope, yet deeply intimate. Schoen gives anthropomorphism some serious spirituality. It got inside my head in the way that only an exciting new idea can." —Howard Tayler, Hugo Award-winning creator of Schlock Mercenary
Tor Books, 9780765394637, 432pp.
Publication Date: August 14, 2018
About the Author
LAWRENCE M. SCHOEN holds a Ph.D. in cognitive psychology and is a certified hypnotist. He's also one of the world's foremost authorities on the Klingon language, and the publisher of a speculative fiction small press, Paper Golem. His debut novel Barsk: The Elephants' Graveyard won the Coyotl Award for Best Novel, and his latest is the sequel The Moons of Barsk. Schoen has been a finalist for the John W. Campbell Award, the Hugo Award, and the Nebula Award. Lawrence lives near Philadelphia.
or
Not Currently Available for Direct Purchase