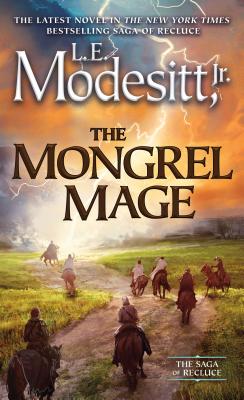 The Mongrel Mage (Saga of Recluce #19)
Mass Market

* Individual store prices may vary.
Other Editions of This Title:
Compact Disc (10/31/2017)
MP3 CD (10/31/2017)
Hardcover (10/31/2017)
Description
L. E. Modesitt, Jr. returns to his longest and bestselling fantasy series with volume nineteen, The Mongrel Mage, which marks the beginning of a new story arc.

USA Today Bestseller List
Locus Bestseller List

In the world of Recluce, powerful mages can wield two kinds of magic—the white of Chaos or the black of Order. Beltur, however, has talents no one dreamed of, talents not seen in hundreds of years that blend both magics.

On the run from a power hungry white mage, Beltur is taken in by Order mages who set him on the path to discover and hone his own unique gifts and in the process find a home.

However, when the white mage he fled attempts to invade his new home, Beltur must hope his new found power will be enough to save them all.

Saga of Recluce

#1 The Magic of Recluce / #2 The Towers of the Sunset / #3 The Order War / #4 The Magic Engineer / #5 The Death of Chaos / #6 Fall of Angels / #7 The Chaos Balance / #8 The White Order / #9 Colors of Chaos / #10 Magi'i of Cyador / #11 Scion of Cyador / #12 Wellspring of Chaos / #13 Ordermaster / #14 Natural Order Mage / #15 Mage-Guard of Hamor / #16 Arms-Commander / #17 Cyador's Heirs / #18 Heritage of Cyador / #19 The Mongrel Mage / #20 Outcasts of Order / #21 The Mage-Fire War


Story Collection: Recluce Tales

Other Series by L.E. Modesitt, Jr.
The Imager Portfolio
The Corean Chronicles
The Spellsong Cycle
The Ghost Books
The Ecolitan Matter
Praise For The Mongrel Mage (Saga of Recluce #19)…
Praise for The Mongrel Mage

USA Today Bestseller

"No writer does it better."—Kirkus

"Smart, thoughtful, and entertaining."—Pat's Fantasy Hotlist

Praise for the Saga of Recluce

"Modesitt has established himself with his Recluce series as one of the best 90s writers of fantasy. The fantasies are characterized by a highly developed and consistent system of magic." —Vector

"L.E. Modesitt Jr., never fails to deserve praise." —Analog

"My favorite thing about L. E. Modesitt's books is that . . . I enjoy rereading them as much as I enjoy them the first time." —SF Revu on The Saga of Recluce
Tor Fantasy, 9780765394699, 768pp.
Publication Date: September 25, 2018
About the Author
L. E. Modesitt, Jr., is the bestselling author of the fantasy series The Saga of Recluce, Corean Chronicles, and the Imager Portfolio. His science fiction includes Adiamante, the Ecolitan novels, the Forever Hero Trilogy, and Archform: Beauty. Besides a writer, Modesitt has been a U.S. Navy pilot, a director of research for a political campaign, legislative assistant and staff director for a U.S. Congressman, Director of Legislation and Congressional Relations for the U.S. Environmental Protection Agency, a consultant on environmental, regulatory, and communications issues, and a college lecturer. He lives in Cedar City, Utah.