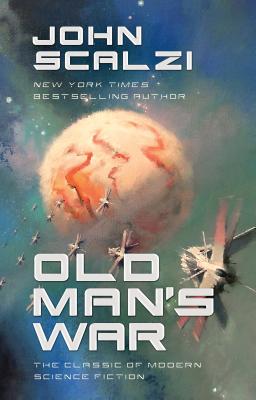 Old Man's War (Hardcover)
Tor Books, 9780765394859, 416pp.
Publication Date: October 17, 2017
* Individual store prices may vary.
Description
A perfect for gift for an entry-level sci-fi reader and the ideal addition to a veteran fan's collection, John Scalzi's Old Man's War will take audiences on a heart-stopping adventure into the far corners of the universe.
John Perry did two things on his 75th birthday. First he visited his wife's grave. Then he joined the army.
The good news is that humanity finally made it to the stars. The bad news is that, out there, planets fit to live on are scarce--and alien races willing to fight us for them are common. So: we fight. Far from Earth, the war has been going on for decades: brutal, bloody, unyielding.
Responsible for protecting humanity, the Colonial Defense Force doesn't want young people; they want people who carry the knowledge and skills of decades of living. You'll be taken off Earth, never to return. You'll serve two years in combat. And if you survive, you'll be given a homestead of your own on a hard-won planet light-years from home.
John Perry is taking that deal. He thinks he knows what to expect. But the actual fight is far, far harder than he can imagine--and what he will become is far stranger.
"Gripping and surpassing the original. It's Starship Troopers without the lectures. It's The Forever War with better sex. It's funny, it's sad, and it's new." --Cory Doctorow
"Smartly conceived and thoroughly entertaining, Old Man's War is a splendid novel." --The Plain Dealer (Cleveland)
"Though a lot of SF writers are more or less efficiently continuing the tradition of Robert A. Heinlein, Scalzi's astonishingly proficient first novel reads like an original work by the late grand master." --Publisher's Weekly (starred review)
About the Author
JOHN SCALZI is one of the most popular and acclaimed SF authors to emerge in the last decade. His massively successful debut, Old Man's War, won him science fiction's John W. Campbell Award for Best New Writer. His New York Times bestsellers include The Last Colony, Fuzzy Nation, Redshirts, which won 2013's Hugo Award for Best Novel, and Lock In. Material from his widely read blog, Whatever, has also earned him two other Hugo Awards. He lives in Ohio with his wife and daughter.