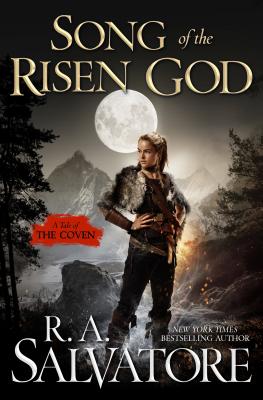 Song of the Risen God (The Coven #3) (Hardcover)
Tor Books, 9780765395337, 416pp.
Publication Date: January 28, 2020
* Individual store prices may vary.
Description
Song of the Risen God is the climatic conclusion to the thrilling Coven Trilogy from New York Times bestselling author, R. A. Salvatore.
War has come to Fireach Speur.
The once forgotten Xoconai empire has declared war upon the humans west of the mountains, and their first target are the people of Loch Beag. Lead by the peerless general, Tzatzini, all that stands in the way of the God Emperor's grasp of power is Aoelyn, Talmadge, and their few remaining allies.
But not all hope is lost. Far away from Fireach Speuer, an ancient tomb is uncovered by Brother Thaddeus of the Abellican Church. Within it is the power to stop the onslaught of coming empire and, possibly, reshape the very world itself.
About the Author
R. A. Salvatore is one of fantasy's most popular authors, with his books frequently appearing on the New York Times bestseller list and more than 10 million copies of his books sold. He is the author of The Bear, The Dame, The Ancient, and The Highwayman as well as Gauntlgrym, The Legend of Drizzt books, including the Dark Elf Trilogy—Homeland, Exile, and Sojourn— and the Demon Wars series, among many others. Salvatore was born in Massachusetts, and earned a B.S. in communications and a B.A. in English from Fitchburg State College. He lives in Massachusetts with his wife, Diane, and their three children.
Praise For Song of the Risen God (The Coven #3)…
Praise for R. A. Salvatore
"An enthralling epic adventure story, it introduces memorable characters and an intricate scheme of magic the readers won't soon forget."—Terry Brooks, on The Demon Awakens
"R. A. Salvatore at his best—and even better."—New York Times bestselling author Michael A. Stackpole, on Mortalis
"As R. A. Salvatore continues to build his detailed and complex history, his readership is sure to build as well."—New York Times bestselling author Kevin J. Anderson, on Ascendance
"Outstanding . . . [Transcendance has] a first-rate female high-fantasy protagonist."—Booklist
"A new classic! Wonderfully told! Fans will love it!"—Troy Denning, New York Times bestselling author of Star Wars: Crucible, on The Demon Awakens
"Absorbing . . . one of the finest books yet in Salvatore's prolific career."—Publishers Weekly, on The Demon Spirit

"Fans of martial fantasy should enjoy his vivid depictions of combat." —Library Journal, on The Ancient
"[A] swift-moving tale of sword and sorcery….Fans of Salvatore's unadorned approach and broad caricatures of archetypal figures should be pleased with this carnival of treachery and medieval feudalism." —Publishers Weekly, on The Highwayman
"[Salvatore] thrusts his avenger into a story pleasingly plump with action, adventure, danger, and, most admirably, great tenderness." —SF Site, on The Highwayman
Vast fun….ninja and samurai fans will get a chuckle recognizing the source of some plot elements. —Booklist, The Highwayman