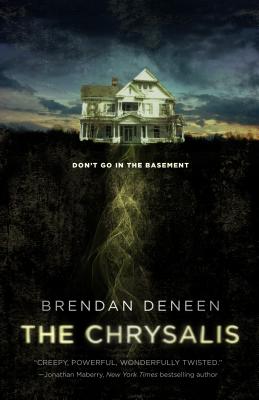 The Chrysalis (Hardcover)
Tor Books, 9780765395559, 304pp.
Publication Date: September 4, 2018
Other Editions of This Title:
Digital Audiobook (9/3/2018)
Pre-Recorded Audio Player (9/4/2018)
* Individual store prices may vary.
Description
"Creepy, powerful, wonderfully twisted."--New York Times bestselling author Jonathan Maberry

Don't Go in the Basement
In a brutal spasm of bad luck, Tom and Jenny Decker lose both their cheap Manhattan
apartment and their barely-above-minimum-wage jobs.
Their luck runs hot when they stumble upon a surprisingly affordable house in the
suburbs, an old friend of Tom's offers him an amazing opportunity, and Jenny discovers
that she's pregnant.
But there are dark secrets galore in the Deckers' new/old house. The place has a
violent past. There's a thing in the basement, a bizarre chrysalis Tom conceals from
Jenny.
Touching it makes him feel like a winner, like he can tackle any challenge—the
mortgage, the commute, impending fatherhood.
Until the night everything goes horribly wrong and the Deckers' dream life is
exposed as the phantom it always was. The night the chrysalis starts to hatch.
About the Author
Brendan Deneen is the award-winning author of The Ninth Circle, as well as the graphic novels Scatterbrain, Flash Gordon: The Mercy Wars, and The Island of Misfit Toys. He is also the author of the bestselling picture book Night Night, Groot. Deneen lives in New Jersey with his wife and daughters.
Praise For The Chrysalis…
"The Chrysalis is a creepy, powerful, wonderfully twisted tale that will chill your blood and keep you turning pages faster and faster. Highly recommended." -Jonathan Maberry, NYT bestselling author of V-Wars and Glimpse
"A brilliant and terrifying fever dream of a tale."—Jay Bonansinga, New York Times bestselling author of The Road to Woodbury

"Horror fans will love this dark, twisted, frightening story. If you loved The Amityville Horror or Heart Shaped Box, you'll love Brendan Deneen's The Chrysalis. Just keep the lights on while you read."—Kristin Hannah, #1 New York Times bestselling author of The Great Alone
"Compelling."—David Moody, author of One of Us Will Be Dead by Morning
"Slowly-mounting dread mixed with can't-stop-turning-the-pages fascination. Recalling modern horror classics like Rosemary's Baby."—Matthew Costello, author of Doom 3
"All the more frightening because ... Deneen makes you care before he starts the scares. A powerful, engrossing, and relentless book."—Chet Williamson, author of Robert Bloch's Psycho: Sanitarium

"Deneen wonderfully concentrates the anxiety and emotional strain of trying to live up to the responsibility that comes with a growing family. The problem here is, part of that family is growing behind the spare fridge in the cellar. Deneen hatches all the darkest fears of having 'one on the way.'"—Bracken MacLeod, author of Stranded

"Deneen's latest book catapults him to the front ranks of today's most exciting new genre writers. An old-school homage to genre classics, The Chrysalis uses themes of family responsibility and substance abuse, madness and artistic vision to create an unsettling mood that builds to a horrifying crescendo. This is a must-read."—Nate Kenyon, author of Day One
Reviews of Brendan Deneen's The Ninth Circle:
"A fascinating read. A hauntingly told story, one to ponder long after you finish."—Horror Novel Reviews on The Ninth Circle
"Eerily beautiful in its descriptions of the circus and its misfit crew. Realism and fantasy mixes well in Deneen's hands. The Ninth Circle also fits solidly in a sub-genre of carnival themed horror novels that includes Katherine Dunn's Geek Love, Ray Bradbury's Something Wicked This Way Comes, and Will Elliott's The Pilo Family Circus."—HellNotes