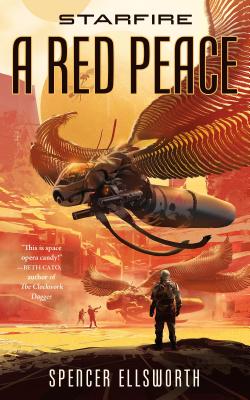 Starfire (Paperback)
A Red Peace (The Starfire Trilogy #1)
Tor.com, 9780765395733, 208pp.
Publication Date: August 22, 2017
Other Editions of This Title:
Paperback (2/27/2018)
Paperback (11/28/2017)
* Individual store prices may vary.
Description
A Red Peace, first in Spencer Ellsworth's Starfire trilogy, is an action-packed space opera in a universe where the oppressed half-Jorian crosses have risen up to supplant humanity and dominate the galaxy.

Half-breed human star navigator Jaqi, working the edges of human-settled space on contract to whoever will hire her, stumbles into possession of an artifact that the leader of the Rebellion wants desperately enough to send his personal guard after. An interstellar empire and the fate of the remnant of humanity hang in the balance.
Spencer Ellsworth has written a classic space opera, with space battles between giant bugs, sun-sized spiders, planets of cyborgs and a heroine with enough grit to bring down the galaxy's newest warlord.
About the Author
SPENCER ELLSWORTH's short fiction has previously appeared in Lightspeed Magazine, The Magazine of Fantasy & Science Fiction, and Tor.com. He is the author of the Starfire trilogy, which begins with Starfire: A Red Peace. He lives in the Pacific Northwest with his wife and three children, works as a teacher/administrator at a small tribal college on a Native American reservation.
Praise For Starfire: A Red Peace (The Starfire Trilogy #1)…
"Space battles! Bug ships! A galaxy in peril! This epic, awe-inspiring blend of the fantastic is everything great space opera should be. Chewy, gooey, thought-provoking and above all — a great deal of fun." —Kameron Hurley
"Gritty. It usually means rough and tumble. Spencer Ellsworth has done that, but here, the word gritty also means tangible. Starfire feels real. Jaqi feels real, and man, is she full of grit." —Mary Robinette Kowal
"Cozy, classic space opera is twisted in innovative, awesome ways in Ellsworth's debut A Red Peace. Humankind is the nasty invasive alien in space that's about to get its comeuppance, and wow, do the pages zoom by. I impatiently await the next book!"—Beth Cato, author of The Clockwork Dagger
"The high adventure and scale of a classic space opera, but with a set of diverse characters with varied motivations and greater nuance." —RT Book Reviews
"It'll surely feed your sci-fi hunger."—Wayward Kitsune