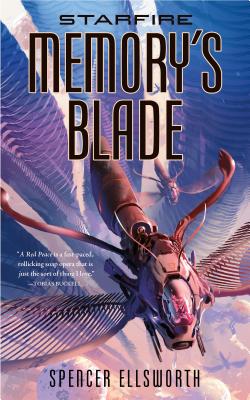 Starfire
Memory's Blade (The Starfire Trilogy #3)
Paperback

* Individual store prices may vary.
Other Editions of This Title:
Paperback (11/28/2017)
Paperback (8/22/2017)
Description
Spencer Ellsworth's Starfire space opera trilogy, a gritty, adult science-fiction adventure, concludes with Starfire: Memory's Blade

At the heart of the Dark Zone, a duel for the universe rages.

In an ancient Jorian temple, Jaqi faces John Starfire, the new ruler of the Empire. He has set all the worlds aflame in his quest to destroy humankind. Jaqi has sworn to stop him. Problem is, Jaqi isn't much of a fighter.

Meanwhile, the sun-eating cosmic spiders, the Shir, have moved out of the Dark Zone and are consuming the galaxy. Araskar knows that he must hold them back, but to do that, he has to give himself over to the Resistance, under the command of John Starfire's wife. And she wants him dead more than she wants the stars to live.

If Jaqi and Araskar can fight their way out, they can use a secret at the heart of the Dark Zone to free the galaxy, and end John Starfire's new tyranny. They lose, and every star in the sky will go dark.
Praise For Starfire: Memory's Blade (The Starfire Trilogy #3)…
PRAISE FOR THE STARFIRE TRILOGY

"Space battles! Bug ships! A galaxy in peril! This epic, awe-inspiring blend of the fantastic is everything great space opera should be. Chewy, gooey, thought-provoking and above all — a great deal of fun." —Kameron Hurley

"Gritty. It usually means rough and tumble. Spencer Ellsworth has done that, but here, the word gritty also means tangible. Starfire feels real. Jaqi feels real, and man, is she full of grit." —Mary Robinette Kowal

"Cozy, classic space opera is twisted in innovative, awesome ways in Ellsworth's debut A Red Peace. Humankind is the nasty invasive alien in space that's about to get its comeuppance, and wow, do the pages zoom by. I impatiently await the next book!"—Beth Cato

"The high adventure and scale of a classic space opera, but with a set of diverse characters with varied motivations and greater nuance." —RT Book Reviews
Tordotcom, 9780765395771, 304pp.
Publication Date: February 27, 2018
About the Author
SPENCER ELLSWORTH's short fiction has previously appeared in Lightspeed Magazine, The Magazine of Fantasy & Science Fiction, and Tor.com. He is the author of the Starfire trilogy, which begins with Starfire: A Red Peace. He lives in the Pacific Northwest with his wife and three children, works as a teacher/administrator at a small tribal college on a Native American reservation.