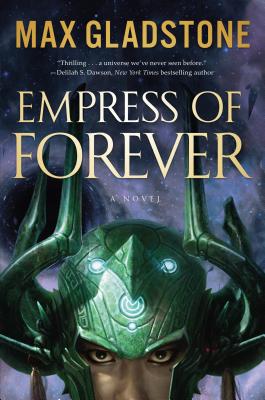 Empress of Forever (Paperback)
A Novel
Tor Books, 9780765395818, 480pp.
Publication Date: June 18, 2019
Other Editions of This Title:
MP3 CD (6/18/2019)
Compact Disc (6/18/2019)
* Individual store prices may vary.
Description
"A classic space opera...a universe we've never seen before." —Delilah S. Dawson, New York Times bestselling author
From Hugo Award finalist Max Gladstone comes a smart, swashbuckling, wildly imaginative adventure; the saga of a rag-tag team of brilliant misfits, dangerous renegades, and enhanced outlaws in a war-torn future.
A wildly successful innovator to rival Steve Jobs or Elon Musk, Vivian Liao is prone to radical thinking, quick decision-making, and reckless action. On the eve of her greatest achievement, she tries to outrun people who are trying to steal her success.
In the chilly darkness of a Boston server farm, Viv sets her ultimate plan into motion. A terrifying instant later, Vivian Liao is catapulted through space and time to a far future where she confronts a destiny stranger and more deadly than she could ever imagine.
The end of time is ruled by an ancient, powerful Empress who blesses or blasts entire planets with a single thought. Rebellion is literally impossible to consider--until Vivian Liao arrives. Trapped between the Pride—a ravening horde of sentient machines—and a fanatical sect of warrior monks who call themselves the Mirrorfaith, Viv must rally a strange group of allies to confront the Empress and find a way back to the world and life she left behind.
A magnificent work of vivid imagination and universe-spanning action, Empress of Forever is a feminist Guardians of the Galaxy crossed with Star Wars and spiced with the sensibility and spirit of Iain M. Banks and William Gibson.
About the Author
MAX GLADSTONE went to Yale, where he wrote a short story that became a finalist in the Writers of the Future competition. He is the author of Three Parts Dead and Two Serpents Rise. He lives in Boston, Massachusetts.
Praise For Empress of Forever: A Novel…
"This feast for the imagination intelligently captures the complexities of a variety of relationships in an adrenaline-fueled series of escapades and will leave readers both exhausted and elated." —Publishers Weekly, starred review
"Empress of Forever [demonstrates] the strength, power, and originality at his command. A deep, cellular-level enchantment filled at every turn with curiosity and delight." —Peter Straub, New York Times bestselling author
"A classic space opera that impossibly becomes a thrilling dungeon crawl fantasy through a universe we've never seen before. So smart it makes me jealous."--Delilah S. Dawson, New York Times bestselling author
"A breakneck epic that explores a wildly, boldly imagined universe, filled with awe and wonder." —John Chu, Hugo Award-winning author
"Readers will be hooked from page one. Vivan Liao is the best kind of badass. Zanj is an epic trainwreck of death and destruction. The rest of the crew is too awesome for words. The whole book is filled with the kind of snark that I love and an endless majesty of stars. It broke me to pieces and then stitched me back together with golden thread. Simply glorious." — K.B. Wagers, author of Behind the Throne

"This is galaxy-saving space opera with cool original settings and a unique band of adventurers that change each other for the better. It was a wild ride and I really enjoyed it."—Martha Wells, Nebula Award-winning author of The Murderbot Diaries
"Max Gladstone has recklessly folded space and time in order to project a galaxy sized adventure into this book-sized container. Take care when you open it." —Howard Tayler, Hugo Award-winning creator of Schlock Mercenary
"Places Gladstone firmly in the lineage of William Gibson and Neal Stephenson, and yet stands apart as something incredibly special." —Fran Wilde, Andre Norton Award-winning author
"Empress of Forever is a spaceship. It blasts through a vast sparkling cosmos, powered by myth and Gladstone's boundless imagination, crewed by characters you can't help but love." —Hannu Rajaniemi, author of The Quantum Thief
"A gloriously maximal space opera in the tradition of Banks and Rajaniemi—the diamond-bright adventure of five unlikely companions across a transhuman galaxy." — Seth Dickinson, author of The Traitor Baru Cormorant