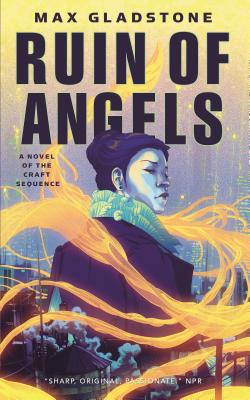 The Ruin of Angels
A Novel of the Craft Sequence
Paperback

* Individual store prices may vary.
Description
Max Gladstone returns with The Ruin of Angels, the sixth novel in the Hugo-nominated Craft Sequence, which The Washington Post calls "the best kind of urban fantasy" and NPR calls "sharp, original, and passionate"
The God Wars destroyed the city of Alikand. Now, a century and a half and a great many construction contracts later, Agdel Lex rises in its place. Dead deities litter the surrounding desert, streets shift when people aren't looking, a squidlike tower dominates the skyline, and the foreign Iskari Rectification Authority keeps strict order in this once-independent city—while treasure seekers, criminals, combat librarians, nightmare artists, angels, demons, dispossessed knights, grad students, and other fools gather in its ever-changing alleys, hungry for the next big score.
Priestess/investment banker Kai Pohala (last seen in Full Fathom Five) hits town to corner Agdel Lex's burgeoning nightmare startup scene, and to visit her estranged sister Lei. But Kai finds Lei desperate at the center of a shadowy, and rapidly unravelling, business deal. When Lei ends up on the run, wanted for a crime she most definitely committed, Kai races to track her sister down before the Authority finds her first. But Lei has her own plans, involving her ex-girlfriend, a daring heist into the god-haunted desert, and, perhaps, freedom for an occupied city. Because Alikand might not be completely dead—and some people want to finish the job.
Praise For The Ruin of Angels: A Novel of the Craft Sequence…
"Sharp, original, passionate." —NPR, on the Craft Sequence
"Gladstone packs a lot into his tale (including a brilliant sequence in which Kai encounters another trans person who lacked Kai's access to divine resources), and longtime readers may find some of his choices surprising." —Publishers Weekly Starred Review, on Ruin of Angels
"Balances rich details and a beautifully descriptive narrative with wit, humor, and plenty of sass for a winning series installment." —RT Book Reviews, 4 ½ starts, Top Pick!, for Four Roads Cross

"Elegant and ferocious." —Daniel José Older, author of Half Resurrection Blues, on Last First Snow

"This is the best kind of urban fantasy, filled with diverse characters and thought-provoking philosophies." —The Washington Post, on Full Fathom Five
"If you've been looking for a different kind of fantasy—part urban, part epic, maybe something in between...you'll thoroughly enjoy this novel." —Carrie Vaughn, author of The Kitty Norville series, on Two Serpents Rise
"Suspenseful and fast-paced throughout, and the diverse, female-led cast is a joy to follow through the fascinating and unusual landscape." —Publishers Weekly Starred Review, on Three Parts Dead
Tor.com, 9780765395894, 576pp.
Publication Date: September 5, 2017
About the Author
MAX GLADSTONE went to Yale, where he wrote a short story that became a finalist in the Writers of the Future competition. He is the author of Three Parts Dead and Two Serpents Rise. He lives in Boston, Massachusetts.