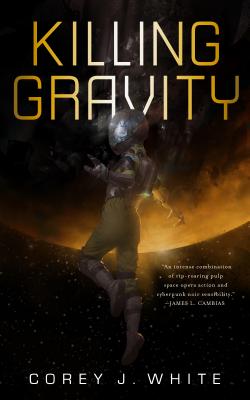 Killing Gravity (The Voidwitch Saga #1)
Paperback

* Individual store prices may vary.
Description
Mars Xi can kill you with her mind, but she'll need more than psychic powers to save her in Killing Gravity, the thrilling science fiction space adventure debut by Corey J. White.

Before she escaped in a bloody coup, MEPHISTO transformed Mariam Xi into a deadly voidwitch. Their training left her with terrifying capabilities, a fierce sense of independence, a deficit of trust, and an experimental pet named Seven. She's spent her life on the run, but the boogeymen from her past are catching up with her. An encounter with a bounty hunter has left her hanging helpless in a dying spaceship, dependent on the mercy of strangers.

Penned in on all sides, Mariam chases rumors to find the one who sold her out. To discover the truth and defeat her pursuers, she'll have to stare into the abyss and find the secrets of her past, her future, and her terrifying potential.

The Voidwitch Saga
Book 1: Killing Gravity
Book 2: Void Black Shadow
Praise For Killing Gravity (The Voidwitch Saga #1)…
"Rip-roaring space opera with a side of magic mushrooms! Fans of Firefly will love Killing Gravity." —Will McIntosh, Hugo Award-winning author of Love Minus Eighty.

"You might think that giving us a protagonist who can crush spaceships with her mind would unbalance the story, but White does an excellent job of writing thrilling, kinetic action scenes with Mariam and her powers, while introducing real and sensible limits to those powers." —RT Book Reviews

"Solidly fun space opera from start to finish." —Locus

"Killing Gravity, by Corey J. White, is an intense combination of rip-roaring pulp space opera action and cyberpunk noir sensibility." —James L. Cambias, Nebula Award-nominated author of Corsair.

"This novella feels like a blockbuster, full of imaginative worldbuilding and fight sequences." —Publishers Weekly

"If you're hungering for a snark-soaked adventure with a side helping of fabulous space-craftery and densely packed adventure, Killing Gravity might be what you're after." —Jeremy Szal
Tor.com, 9780765396310, 176pp.
Publication Date: May 9, 2017
About the Author
COREY J. WHITE is a writer of science-fiction, horror, and other, harder to define stories. He studied writing at Griffith University on the Gold Coast, and is now based in Melbourne, Australia. He is the author of Killing Gravity, Void Black Shadow, and Static Ruin.