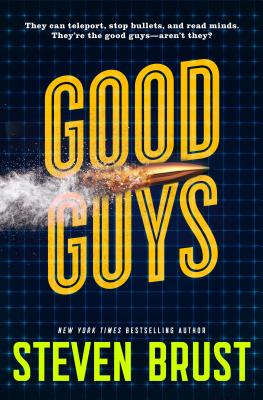 Good Guys
Hardcover

* Individual store prices may vary.
Description
A snarky, irreverent tale of secret magic in the modern world, the first solo standalone novel in two decades from Steven Brust, the New York Times bestselling author of the Vlad Taltos series

Donovan was shot by a cop. For jaywalking, supposedly. Actually, for arguing with a cop while black. Four of the nine shots were lethal—or would have been, if their target had been anybody else. The Foundation picked him up, brought him back, and trained him further. "Lethal" turns out to be a relative term when magic is involved.

When Marci was fifteen, she levitated a paperweight and threw it at a guy she didn't like. The Foundation scooped her up for training too.

"Hippie chick" Susan got well into her Foundation training before they told her about the magic, but she's as powerful as Donovan and Marci now.

They can teleport themselves thousands of miles, conjure shields that will stop bullets, and read information from the remnants of spells cast by others days before.

They all work for the secretive Foundation…for minimum wage.

Which is okay, because the Foundation are the good guys. Aren't they?
Praise For Good Guys…
Praise for Good Guys

"Brust fans and admirers of Connie Willis and Jim Butcher will appreciate [Good Guys]."—Library Journal

"Amusing and campy...fast-paced action and witty narration." —Booklist

Praise for Steven Brust

"Brust is one of those natural caper writers, a pulp writer in the Hammett tradition, someone with what William Gibson calls 'wheels on his tractor.' In other words, a writer who can spin a yarn that keeps you guessing until the end, aware of many precise moving parts all meshing in synchrony to drive a magnificent jeweled watch of a story." —Cory Doctorow on Hawk

"Secret societies, immortality, murder mysteries, and Las Vegas all in one book? Shut up and take my money." —John Scalzi on The Incrementalists

"Delightful, exciting, and sometimes brilliant." —Neil Gaiman on Steven Brust

"Watch Steven Brust. He's good. He moves fast. He surprises you. Watching him untangle the diverse threads of intrigue, honor, character and mayhem from amid the gears of a world as intricately constructed as a Swiss watch is a rare pleasure." —Roger Zelazny

"Steven Brust may well be America's best fantasy writer." —Tad Williams

"Wonderful…Like most of Brust's books, this witty, wry tale stands alone and is very accessible to new readers." —Publishers Weekly on Tiassa
Tor Books, 9780765396372, 320pp.
Publication Date: March 6, 2018
About the Author
STEVEN BRUST is the author of a number of bestselling fantasy novels, including two New York Times bestsellers, Dzur and Tiassa. He lives in Minneapolis, Minnesota.
or
Not Currently Available for Direct Purchase