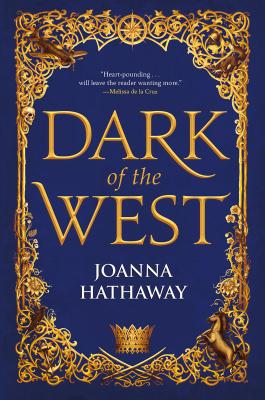 Dark of the West (Hardcover)
Tor Teen, 9780765396419, 480pp.
Publication Date: February 5, 2019
* Individual store prices may vary.
Description
He was raised in revolution. She was raised in a palace. Can their love stop a war? Code Name Verity meets The Winner's Curse in Joanna Hathaway's Dark of the West, a breathtaking YA fantasy debut.
Aurelia Isendare is a princess of a small kingdom in the North, raised in privilege but shielded from politics as her brother prepares to step up to the throne. Halfway around the world, Athan Dakar, the youngest son of a ruthless general, is a fighter pilot longing for a life away from the front lines. When Athan's mother is shot and killed, his father is convinced it's the work of his old rival, the Queen of Etania--Aurelia's mother. Determined to avenge his wife's murder, he devises a plot to overthrow the Queen, a plot which sends Athan undercover to Etania to gain intel from her children.
Athan's mission becomes complicated when he finds himself falling for the girl he's been tasked with spying upon. Aurelia feels the same attraction, all the while desperately seeking to stop the war threatening to break between the Southern territory and the old Northern kingdoms that control it--a war in which Athan's father is determined to play a role. As diplomatic ties manage to just barely hold, the two teens struggle to remain loyal to their families and each other as they learn that war is not as black and white as they've been raised to believe.
About the Author
JOANNA HATHAWAY was born in Montréal and is an avid storyteller who was inspired to write after reading her great-grandfather's memoirs of the First World War. A lifelong history buff, she now has shelves filled with biographies and historical accounts, and perhaps one too many books about pilots. She can often be found reading, traveling, or riding horses. Dark of the West is her debut novel.