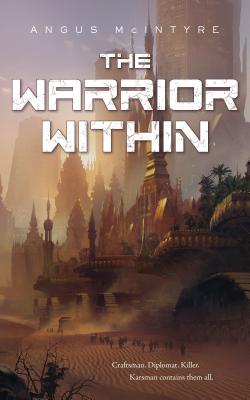 The Warrior Within
Paperback

* Individual store prices may vary.
Description
Angus McIntyre makes his debut with The Warrior Within, a mind-bending science fiction adventure about a man with many people living in his head

Karsman has a dozen different people living in his head, each the master of a different set of skills and hoping to gain mastery of Karsman's body. He survives on a backwater planet dominated by the Muljaddy, a mostly ambivalent religious autocracy, where devotion and prayer can be traded in for subsistence wages and enough food to survive. Surrounded by artifacts of a long dead civilization, the population survives off its salvage, with Karsman eking out an uneventful life as the unofficial mayor of his small town.

But that life is soon interrupted, when a group of commandos arrive, coming from the wastelands as only off-worlders could. They've come to kill a woman, or so they say. At first the commandos merely threaten as they search. Unable to find what they're looking for, they begin to ratchet up their measures, separating the men from the women, instigating violent encounters, and eventually staging a coup against the Muljaddy and his Temple.

Faced with the task of protecting his quiet town and a woman he might love from the commandos who could want to kill her, Karsman must balance between maintaining his personality and harnessing the personas whose skills he desperately needs.
Praise For The Warrior Within…
"Old school science fiction sense-of-wonder ... just delightful fun."—Kameron Hurley

"A bit of a western, a bit of a science fictional dystopia, an action story that combines vivid worldbuilding with great pacing and a deep mystery whose resolution is very satisfying indeed." —Cory Doctorow for BoingBoing

"[McIntyre's] brilliant, efficient storytelling gives readers a vividly descriptive futuristic world that is easy to visualize and be drawn into." —RT Book Reviews, 4 Stars

"McIntyre creates a vivid setting, resilient characters, and comprehensive mythology that deserve many more stories." —Publishers Weekly
Tordotcom, 9780765397102, 176pp.
Publication Date: March 6, 2018
About the Author
ANGUS McINTYRE was born in London and has lived in Edinburgh, Milan, Brussels and Paris before eventually finding his way to New York, where he now lives and works. A graduate of the 2013 Clarion Writer's Workshop, his short fiction has been published in numerous anthologies and on BoingBoing. His background in computational and evolutionary linguistics and in artificial intelligence has given him a healthy respect for positive feedback loops and a certain curiosity about what it might be like to live in a universe filled with intelligent machines. His hobbies include travel and photography. His first published book is The Warrior Within.