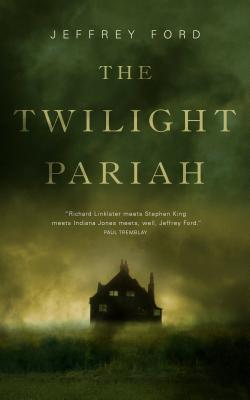 The Twilight Pariah
Paperback

* Individual store prices may vary.
Description
"Poignant and punchy." —The New York Times

Three friends go looking for treasure and find horror in Jeffrey Ford's The Twilight Pariah.

All Maggie, Russell, and Henry wanted out of their last college vacation was to get drunk and play archaeologist in an old house in the woods outside of town. When they excavate the mansion's outhouse they find way more than they bargained for: a sealed bottle filled with a red liquid, along with the bizarre skeleton of a horned child

Disturbing the skeleton throws each of their lives into a living hell. They feel followed wherever they go, their homes are ransacked by unknown intruders, and people they care about are brutally, horribly dismembered. The three friends awakened something, a creature that will stop at nothing to retrieve its child.
Praise For The Twilight Pariah…
"The Twilight Pariah is Richard Linklater meets Stephen King meets Indiana Jones meets, well, Jeffrey Ford. His trademark mix of intelligence, creeps, melancholy, integrity, and wit is as addictive as it is compelling. I want to be Jeffrey Ford when I grow up." —Paul Tremblay, author of A Head Full of Ghosts and Disappearance at Devil's Rock

"The Twilight Pariah kept me up for two nights running, alternately laughing out loud and looking nervously over my shoulder for … well, read it and find out for yourself. Ford's latest is creepy, funny, and poignant — a delight for connoisseurs of fantastic fiction." —Liz Hand

"Ford sticks the landing of this short, poignant and punchy book not by resolving the mystery, but by reminding the reader that there's nothing quite so horrific as having no future." —The New York Times

"Endearing characters, elegant descriptions, and imaginative monsters make this a breezy beach read for horror fans." —Publishers Weekly

"Tense and efficient." —Locus

"The Twilight Pariah, part ghost story, part murder mystery, swings from the craftily conventional to the truly inventive and creates compassionate characters in a very tight space." —Fiction Unbound

"The Twilight Pariah is the kind of story that makes the goosebumps rise." —NY Journal of Books
Tordotcom, 9780765397348, 176pp.
Publication Date: September 12, 2017
About the Author
Jeffrey Ford is the author of the novels The Physiognomy, Memoranda, The Beyond, The Portrait of Mrs. Charbuque, The Girl in the Glass, The Cosmology of the Wider World, and The Shadow Year. His story collections are, The Fantasy Writer's Assistant, The Empire of Ice Cream, The Drowned Life, and Crackpot Palace. His short fiction has appeared in numerous journals, magazines and anthologies, from MAD Magazine to The Oxford Book of American Short Stories.