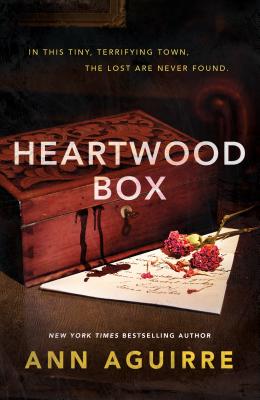 Heartwood Box (Hardcover)
Tor Teen, 9780765397645, 336pp.
Publication Date: July 9, 2019
* Individual store prices may vary.
Description
Stranger Things meets The Lakehouse in Heartwood Box, a dark, romantic YA suspense novel with an SF edge from New York Times bestselling author Ann Aguirre.
In this tiny, terrifying town, the lost are never found.
When Araceli Flores Harper is sent to stay with her great-aunt Ottilie in her ramshackle Victorian home, the plan is simple. She'll buckle down and get ready for college. Life won't be exciting, but she'll cope, right?
Wrong. From the start, things are very, very wrong. Her great-aunt still leaves food for the husband who went missing twenty years ago, and local businesses are plastered with MISSING posters. There are unexplained lights in the woods and a mysterious lab just beyond the city limits that the locals don't talk about. Ever. When she starts receiving mysterious letters that seem to be coming from the past, she suspects someone of pranking her or trying to drive her out of her mind.
To solve these riddles and bring the lost home again, Araceli must delve into a truly diabolical conspiracy, but some secrets fight to stay buried…
About the Author
Ann Aguirre has been a clown, a clerk, a savior of stray kittens, and a voice actress, not necessarily in that order. She grew up in a yellow house across from a cornfield, but she now lives in a terracotta adobe house in Mexico with her husband and two adorable children. The post-apocalyptic novel Enclave is her first book for young adults. She also writes the romantic science fiction series about Sirantha Jax, starting with Grimspace, as well as urban fantasy and paranormal romance. As Ava Gray, she writes paranormal romantic suspense.