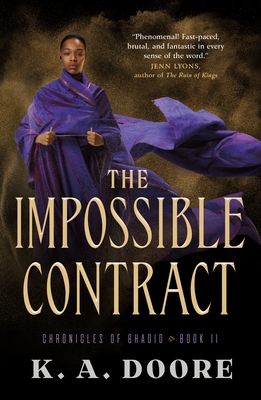 The Impossible Contract
Book 2 in the Chronicles of Ghadid
Paperback

* Individual store prices may vary.
Other Editions of This Title:
Digital Audiobook (11/11/2019)
Description
The Impossible Contract is the second book in K. A. Doore's high fantasy adventure series the Chronicles of Ghadid, where a determined assassin travels to the heart of the Empire in pursuit of a powerful mark, for fans of Robin Hobb, Sarah J. Maas, and S. A. Chakraborty

An assassin's reputation can mean life or death.

This holds especially true for Thana Basbowen, daughter of the legendary Serpent, who rules over Ghadid's secret clan of assassins. When a top-tier contract drops in her lap — death orders against foreign ambassador Heru Sametket — Thana seizes the opportunity.

Yet she may be in over her head. Heru wields blasphemous powers against his enemies, and Thana isn't the only person after his life: even the undead pursue him, leaving behind a trail of horror. Her mission leads her on a journey to the heart of a power-hungry empire, where dangers lurk around every corner. Her only ally is Mo, a determined healer set to protect Ghadid any way she can.

As further occult secrets are unleashed, however, the aftermath of this impossible contract may be more than anyone can handle.

The Chronicles of Ghadid
#1: The Perfect Assassin
#2: The Impossible Contract
#3: The Unconquered City
Praise For The Impossible Contract: Book 2 in the Chronicles of Ghadid…
"What a phenomenal book filled with sublime worldbuilding and memorable characters! Seriously, I cannot praise it enough. Doore never flinches from telling a story that is fast-paced, brutal, and fantastic in every sense of the word. Loved it!" — Jenn Lyons, author of The Ruin of Kings

"Doore's second novel (after The Perfect Assassin) continues the lush worldbuilding and inclusive characters of the first, while establishing exciting action- and emotion-filled sequences that will keep readers engaged." —Library Journal, starred review

"The gutsy heroine of the second stand-alone high fantasy in Doore's Chronicles of Ghadid series (after The Perfect Assassin) embarks on a heart-pounding adventure through an inviting, richly imagined world....New readers and series fans alike will be hooked by this triumphant fantasy adventure." —Publishers Weekly

For The Perfect Assassin

"With a mix of heart and adventure, and set in a wonderfully inventive new world, K.A. Doore's debut shines." —S. A. Chakraborty, author of The Kingdom of Copper

"Doore wows with this outstanding fantasy debut based on mythology from Egypt and sub-Saharan Africa. Doore is a force to be reckoned with, blending a stirring plot, elegant worldbuilding, effortless style, and diverse, empathetic characters. Her debut is sure to be a hit with fans of Sarah J. Maas and George R.R. Martin." —Publishers Weekly, starred review

"The Perfect Assassin is one of those rare books that manages to be both thrilling and tender. It's full of rooftop fights, frightening magic, and nonstop excitement and mystery, while at the same time it's a thought-provoking exploration of what it means to be a monster and the power of love and forgiveness. I absolutely loved it from start to finish!" — Sarah Beth Durst, award-winning author of The Queens of Renthia series

"The writing is smooth and the world immersive, the characters lively and distinct; it's queer AF, well-paced and fascinating and political, and grapples with the morality of assassination in a thoughtful and considered way." —Sam Hawke, Aurealis Award-winning author of City of Lies

"K. A. Doore has crafted a thrilling and poignant tale on the costs of loyalty. In the city of Ghadid, ideas of justice and family battle and braid themselves around each other in action-packed fashion. Part murder mystery, part family saga, part coming-of-age chronicle, The Perfect Assassin intrigues and excites in equal measure." –Tochi Onyebuchi, author of Beasts Made of Night

"In a high-flung desert city, a reluctant assassin's choices threaten his family's way of life, those he loves, and, worst of all, the spirits of the dead. Amastan Basbowen's options are all dangerous, but he must move forward. The ensuing intrigue forms the core of a highly exciting adventure." — Fran Wilde, Hugo and Nebula nominated, Andre Norton Award winning author of Updraft

"Set in a world of believable richness, The Perfect Assassin combines a suspenseful plot with a memorable cast of characters, and an assassin protagonist who is compelled to make hard choices." —Ilana C. Myer, author of Last Song Before Night and Fire Dance

"A bold, original adventure set in a world of enthralling beauty. The Perfect Assassin shimmers with mystery and romance, and with characters whose courage and charisma brighten every page." — Ausma Zehanat Khan, author of The Bloodprint

"Fascinating world building with all the mystery and appeal of the One Thousand and One Nights." —Duncan M. Hamilton, author of the Wolf of the North series

"Doore's thrilling fantasy debut is a suspenseful murder mystery wrapped around a coming-of-age story, sprinkled with family intrigue, vengeful ghosts, and a gentle but bittersweet m/m romance. Ghadid, set on platforms hundreds of feet above shifting sands, is vividly described, with a fascinating history and culture that Doore folds in naturally. This author is one to watch."— Booklist

"The Perfect Assassin is part mystery, part thriller, part coming-of-age, and part explosive magic. It's deeply entertaining, a smooth and rewarding read. I enjoyed Doore's debut. And I'm seriously looking forward to seeing what she does next." —Tor.com
Tor Books, 9780765398574, 368pp.
Publication Date: November 12, 2019
About the Author
K. A. Doore got a degree in Classics, and then bounced around doing a variety of things, including fixing bicycles, keeping chickens, weightlifting, photographing saguaros, and went on long, dry hikes in the desert. She now lives in Michigan with her wife and daughter, two cats, and no ghost--yet. The Chronicles of Ghadid is her trilogy debut, beginning with The Perfect Assassin.