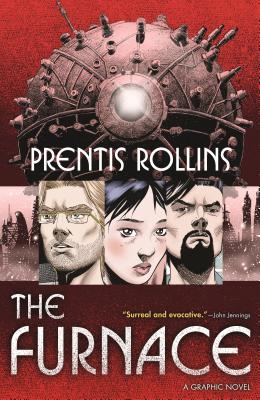 The Furnace (Paperback)
A Graphic Novel
Tor Books, 9780765398680, 208pp.
Publication Date: July 10, 2018
* Individual store prices may vary.
Description
Timely and heartfelt, Prentis Rollins's graphic novel debut The Furnace is a literary science fiction glimpse into our future, for fans of Black Mirror and The Twilight Zone
One decision. Thousands of lives ruined. Can someone ever repent for the sins of their past?
When Professor Walton Honderich was a young grad student, he participated in a government prison program and committed an act that led to the death of his friend, the brilliant physicist Marc Lepore, and resulted in unimaginable torment for an entire class of people across the United States.
Twenty years later, now an insecure father slipping into alcoholism, Walton struggles against the ghosts that haunt him in a futuristic New York City.
With full-color art and a cutting-edge critique of our increasingly technological world, The Furnace speaks fluently to the terrifying scope of the surveillance state, the dangerous allure of legacy, and the hope of redemption despite our flaws.
"Surreal and evocative, The Furnace is a great critique of technology and the human condition." —John Jennings, illustrator for the New York Times #1 bestseller Octavia Butler's Kindred: A Graphic Novel Adaptation
About the Author
PRENTIS ROLLINS has over 20 years of experience working as a writer and artist in the comics industry. His previous titles include How to Draw Sci-fi Utopias and Dystopias (Monacelli Press, 2016), The Making of a Graphic Novel (Watson-Guptill Books, 2006), and Survival Machine (Stories) (Monkeysuit Press, 2002). He has also worked for DC Comics between 1993-2013 as a Inker, Colorist, and Penciller for titles such as Batman, Superman, Green Lantern, JLA, and dozens more. The Furnace is his debut full-length graphic novel.
Praise For The Furnace: A Graphic Novel…
"Comic-book artist Prentis Rollins uses art and words to tell a vivid cautionary tale about technology gone awry….a haunting work of science fiction."—The Washington Post; selected Best SFF of July 2018
"Even if you're not inclined to meditate on punishment and human nature, The Furnace's visuals make it a page-turner."—NPR

"This ambitious solo effort by Rollins, a frequent Marvel and DC comics artist, offers an unsettling cautionary critique on the misuse of technology to further the marginalization of society's "undesirables ... Rollins's strong world-building lends his narrative a creeping sense of prescience, sending a provocative message about what modern society is capable of bringing about, and at what cost." —Publishers Weekly

"Surreal and evocative, The Furnace is a great critique of technology and the human condition, the prison industrial complex, and the profound traumas that scar us but can also make us stronger." —John Jennings, illustrator for the New York Times #1 bestseller Octavia Butler's Kindred: A Graphic Novel Adaptation

"Prentis Rollins creates a future uncomfortably around the corner, and populates it with very human people confronting themselves and their destinies. You can feel a lifetime of craft at making comics stretching into something more." — Paul Levitz, writer/former Publisher of DC Comics

"Prentis Rollins introduces a brilliant idea waiting to happen and shows us the consequences of removing the humanity from science and the cost it has on one's soul. The Furnace does what the best science fiction should, it gives us a glimpse into the world of tomorrow while keeping us deeply invested in the relatable emotional journey of its main characters." — Jimmy Palmiotti, New York Times bestselling comics author and creator of Painkiller Jane
"Rollins plays devil's advocate by poking at our flawed penal system, and the moral and ethical complications of a futuristic world where prisoners are reduced to the status of living ghosts. Haunting and deeply provocative, The Furnace is both a stunning and elegantly told story of one man's struggle with his conscience and how to live with the repercussions of what he has wrought as well as the power of forgiveness." —Amy Giles, author of Now Is Everything
"The Furnace celebrates the marriage of striking concept design and attention to grounded, everyday characters. Rollins instantly transports the reader to a familiar place with flourishes of the fantastic." —Shawn Martinbrough, artist for Marvel's Luke Cage, Black Panther, and Captain America

"... yes, this is the real deal with its finely modulated pace and attention to detail. It delivers that ethereal sensation that leaves you in a deliciously questioning mood. And, with its sophisticated flair, it will have strong appeal to adult readers while still appropriate for any age." – Comics Grinder
"The Furnace is a fascinating science fiction novel of ideas and of relationships ... Like a good episode of 'Black Mirror,' this new graphic novel uses science fiction to illuminate our world in strange and frightening ways."—Comics Bulletin
"Prentis Rollins keeps the story in a low-key, intimate and personal, more concerned with the effects on people than slam-bang action. It works. Tucked into the narrative are various nuggets of wisdom about honesty, sexuality, ambition and other flaws of human nature. This is a rich and rewarding book, the best graphic novel I've read in a while." – SF Crowsnest
"Decent artwork, interesting story, thought provoking." – Sci-Fi Fan Letter
or
Not Currently Available for Direct Purchase