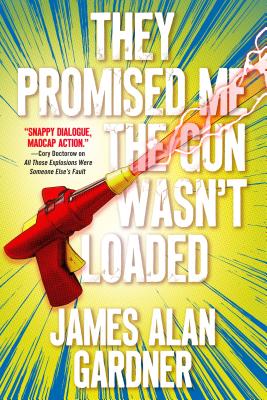 They Promised Me The Gun Wasn't Loaded (Paperback)
Tor Books, 9780765398789, 352pp.
Publication Date: November 6, 2018
Other Editions of This Title:
MP3 CD (1/29/2019)
* Individual store prices may vary.
Description
Award-winning author James Alan Gardner returns to the superheroic fantasy world of All Those Explosions Were Someone Else's Fault with They Promised Me The Gun Wasn't Loaded.
Only days have passed since a freak accident granted four college students superhuman powers. Now Jools and her friends (who haven't even picked out a name for their superhero team yet) get caught up in the hunt for a Mad Genius's misplaced super-weapon.
But when Jools falls in with a modern-day Robin Hood and his band of super-powered Merry Men, she finds it hard to sort out the Good Guys from the Bad Guys—and to figure out which side she truly belongs on.
Especially since nobody knows exactly what the Gun does . . . .
About the Author
James Alan Gardner is a 1989 graduate of the Clarion West Science Fiction Writers Workshop, and has had several science fiction stories and novellas appear in publications such as Isaac Asimov's Science Fiction Magazine, Amazing Stories, and The Magazine of Fantasy and Science Fiction. He is the author of Expendable, Commitment Hour, Vigilant, Hunted, Ascending, Trapped, and Radiant. He was the grand prize winner of the 1989 Writers of the Future contest, has won the Aurora Award, and has been nominated for the Hugo and Nebula Awards. He lives in Canada.
Praise For They Promised Me The Gun Wasn't Loaded…
Praise for All Those Explosions were Someone Else's Fault
"Gardner mixes serious physics speculation with snappy dialog, madcap action and real suspense to spin a tale that has all the explosions you could ask for (hence the title) and more than its suspense and laughs." —Cory Doctorow, bestselling author of Walkaway
"Jim Gardner's All Those Explosions were Someone Else's Fault is the most sheer fun I've had in years. It is what the doctor ordered and why the preacher danced." —Spider Robinson, co-author with Robert A. Heinlein of Variable Star