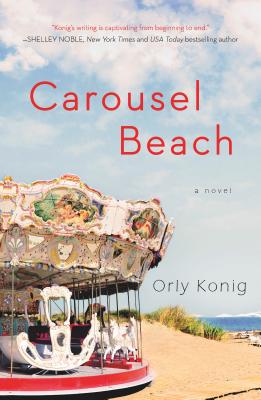 Carousel Beach (Paperback)
Forge, 9780765398819, 320pp.
Publication Date: May 8, 2018
Description
A cryptic letter on her grandmother's grave and a mysterious inscription on a carousel horse leads artist Maya Brice to Hank Hauser, the ninety-year-old carver of the beloved carousel she has been hired to restore in time for its Fourth of July reopening in her Delaware beach town. Hank suffers from Alzheimer's, but on his "better" days, Maya is enthralled by the stories of his career. On his "off" days, he mistakes her for her grandmother--his secret first love.
While stripping chipped layers of paint from the old horse and peeling layers of fragmented memories from the old man, Maya untangles the intertwined secrets of love, heartbreak, and misunderstandings between three generations of strong willed women.
About the Author
After years in the corporate world (most of it in the space industry), ORLY KONIG took a leap into the creative world of fiction. She is the founding president of the Womens Fiction Writers Association and an active member of the Writers in the Storm blog. She lives in Maryland with her family. The Secrets We Spin is her second novel.
Advertisement