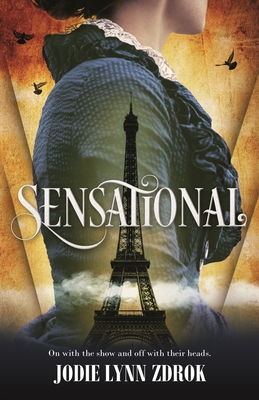 Sensational (Hardcover)
Tor Teen, 9780765399717, 336pp.
Publication Date: February 11, 2020
* Individual store prices may vary.
Description
18-year-old Parisian reporter Nathalie Baudin returns to hunt a new killer in Sensational, the sequel to Jodie Lynn Zdrok's riveting historical thriller Spectacle.
The 1889 Exposition Universelle in Paris is full of innovations, cultural displays, and inventions. Millions of visitors attend over the course of several months...so no one would notice if a few were missing, right? Maybe—but someone is celebrating the 100th anniversary of the guillotine with a display of their own: beheaded victims in some of the Exposition's most popular exhibits.
"For fans of Libba Bray's Diviners series or William Ritter's Jackaby books."—Booklist on Spectacle
About the Author
Jodie Lynn Zdrok holds two MAs in European History and an MBA. In addition to being an author, she's a marketing professional, a freelancer, and an unapologetic Boston sports fan. She enjoys traveling, being a foodie, doing sprint triathlons, and enabling cats. Spectacle is her debut.
Praise For Sensational…
PRAISE FOR SPECTACLE

"Clever and full of murder, Jodie Lynn Zdrok's Spectacle had my eyes glued to the pages as the body count rose, and mystery stacked upon mystery as our heroine closed in on a killer who seemed miles ahead of the Parisian authorities. Fans of serial killers and criminal investigations will find much to love, and fascinating passages about morgue tours will appeal to the morbid rubbernecker in us all."—Kendare Blake, #1 New York Times bestselling author of the Three Dark Crowns series
"With a fierce heroine, grisly 19th-century murders, and a mystery that left me on the edge of my seat, Spectacle is an immersive, Parisian, YA From Hell that I absolutely devoured!"—Gretchen McNeil, author of Ten and #MurderTrending
"Zdrok explores the universal fascination with death, set among the darker corners of 1887 Paris, and the very idea of the morgue viewings (to which parents brought their children) is chilling...Grisly, plot driven—and very creepy. Fans of historical thrillers that invoke the enduring spirit of Jack the Ripper will have fun."—Kirkus Reviews
"Hints of the murderer's identity are subtly and intriguingly folded into the story, and unresolved plot threads pave the way for future cases, during which Nathalie can discover more about her powers. The blend of history, mystery, and fantasy makes this debut novel a good pick for fans of Libba Bray's Diviners series or William Ritter's Jackaby books."—Booklist
"The book seamlessly brings several threads together: the mystery of the murder and the horrors of the killings themselves; the beauty, bustle, and darkness of nineteenth-century Paris (the killer's pursuit of Nathalie through the catacombs is thrillingly described); the bizarre but historically based practices of morgue viewing and blood transfusions for magic; and the destructive nature of family secrets and their generational effects. ...the tension amps up to a gasp-worthy climax."—Bulletin of the Center for Children's Books
"Zdrok has concocted an ambitious Victorian-era story. ...Intricately plotted, the story's pace burns slow before racing ahead to set up and topple assumptions about the true identity of the Dark Artist."—School Library Journal